Brexit Sword Hanging Over Market May Spur Pound Bond Sales
(Bloomberg) -- Companies considering a sterling-bond sale may need to hurry up as potential Brexit deadlock looms.
The U.K.'s path to exiting the European Union in March is still far from certain, despite some promising signs that a deal may soon be agreed. A no-deal scenario would open up a host of regulatory and economic complications, with borrowers highlighting risks including possible flight disruptions, legal holes, or loss of EU funding in bond documents. These worries may intensify in the weeks ahead, potentially driving up borrowing costs or even shutting the market.
"If I were a treasurer thinking 'I may need to access markets between late September and June,' I would be nervous," said Ian Robinson, a fund manager at BMO Global Asset Management, which oversees more than 75 billion pounds ($98 billion) of fixed income worldwide. "No one can be sure how bond markets in the U.K. may react to adverse scenarios."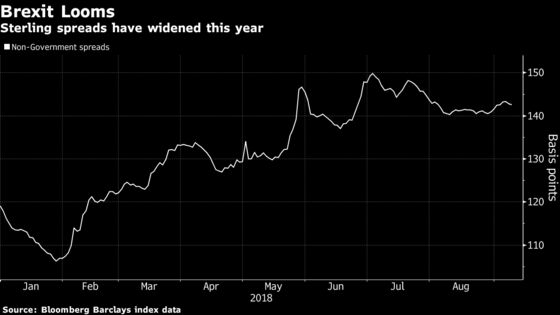 The potential issuance window is also squeezed by corporate earnings next month as well as key Brexit meetings in the run-up to year-end. Such concerns probably helped fuel a post-summer pickup in sterling sales, with borrowers issuing a total of 5.6 billion pounds of notes marketwide since the Aug. 27 U.K. national holiday, according to data compiled by Bloomberg.
Pension Insurance Corp., Northern Ireland Electricity Networks, port operator DP World Ltd. and Japan Tobacco Inc. may also bring deals soon.
AT&T Inc. sold 750 million pounds of bonds maturing in 2026 last week, only the third U.S. corporate sale in sterling this year. The Dallas-based telecommunications company said the deal was part of efforts to diversify in debt in an email to Bloomberg News.
BMW AG issued its second sterling deal of the year on Sept. 5. The German automaker has 950 million pounds of notes maturing in December and a similar total due across the whole of next year, according to data compiled by Bloomberg.
"Sterling issuances are a relevant source of funding in the bond market for the group," BMW spokesman Max-Morten Borgmann said by email.
Still, recent corporate pound sales have slowed compared to last year, dropping 7 percent to 1.9 billion pounds in the 11 trading days after the U.K. national holiday versus the equivalent period last year. By contrast, euro sales rose about 12 percent to 23.1 billion euros ($27 billion), partly because of issuers reviving deals that were delayed by market volatility earlier in the year.
Corporate sales in both currencies will likely cool next month due to restrictions ahead of earnings. Whether the market will reopen again after that, particularly in sterling, may largely depend on the Brexit talks.
"This year it is difficult to know if volatility will hit again," said Luke Hickmore, a senior investment manager at Aberdeen Standard Investment in Edinburgh. If it does, the window may close "very quickly," he said.