Brexit Fund Loads Up With U.K. Exporters as Make-or-Break Nears
(Bloomberg) -- The manager of an outperforming fund with Brexit in its name says a deal will come -- but is ready if it doesn't.
That's because FDC Brexit, which has three-quarters of its portfolio in U.K. stocks, is loaded up with British exporters, according to fund manager Alexis Charveriat. If the U.K. and European Union reach a deal, global funds will flow back to the U.K. market, supporting his bets; if they don't, the pound's slide will boost exporters, he said.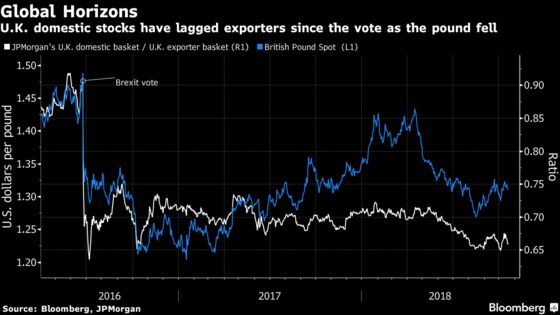 Brexit talks are now coming to a head, with the EU aiming to finish the deal in December so that a blueprint can be laid out by the time the U.K. is officially scheduled to leave in March. But the two sides remain at an impasse over the Irish border issue, and the concrete details of their future relations may be fudged until later.
The fund, run by Paris-based Financiere de la Cite, lets investors hedge against a break-up of the euro zone, with a portfolio concentrated in European stocks outside the single-currency bloc. It has returned 6 percent this year, beating the U.K. equity benchmark and 98 percent of European stock funds.
"At the end of the day, they will strike a deal because it could be so disruptive" if they do not, he said by phone from the French capital on Wednesday. "A positive event -- striking a deal -- could clear a lot of doubts from international investors regarding the U.K."
The fund favors U.K. healthcare companies like AstraZeneca Plc and GlaxoSmithKline Plc, as well as stocks like Johnson Matthey Plc, BAE Systems Plc and International Consolidated Airlines Group SA, he said. It earlier sold positions in oil and commodity stocks on their rich valuations.
A good Brexit deal will entice him to add more U.K. domestic names, he said.
"Confidence could come back on the consumer side and imported inflation should come down," he said. "I will get some exposure to more domestic names and I will get some exposure to small- and mid-caps, but only in a positive event. Today is too early."