Brexit Bulletin: The Day Has Arrived
(Bloomberg) -- Today in Brexit: The day Theresa May's party turned against her. 
Politics can be about many things, but at crucial moments it's very often about one thing: numbers.
For Prime Minister Theresa May, the number was 48. That's at least how many Tory MPs turned against their leader, triggering party rules that dictate when a confidence vote must be held. May now faces the greatest crisis of her turbulent premiership. 
Fresh from delaying a planned vote on her much-derided Brexit plan, May spent Tuesday zipping around Europe trying to eke out some helpful concessions from European Union leaders. She got warm words and "frank" discussions. Today she's due to face Labour leader Jeremy Corbyn at Prime Minister's Questions and meet Irish Taoiseach Leo Varadkar in Dublin. Tomorrow there's an emergency summit of EU leaders in Brussels to discuss Brexit.
But that schedule was set before the news that lawmaker Graham Brady announced the confidence vote.  The call couldn't have been a surprise to the beleaguered prime minister.  One former Cabinet minister went public with his letter late on Tuesday, decrying "broken promises" and "more than two years of poor government decision-making." Rebel, euroskeptic Tory MPs have been calling for May to go for several weeks now. But the rancorous debate in Parliament in the past week, and May's decision to postpone the vote on the divorce deal in order to avoid a heavy defeat, appears to have hardened more Tory hearts.
Now the prime minister will quickly need to start thinking about a new number: 158. That's half of her parliamentary party, plus one, and it's the number of votes she'll need from Conservative MPs simply to stay in office.
The EU isn't budging on the Brexit deal, fearing May will keep coming back for more, Ian Wishart reports.
Don't confuse a Conservative confidence vote with a possible Labour-led confidence vote. Both could put May out of a job, but they are different beasts. Rob Hutton has all the details. 
Even if she survives, May will need Labour votes to pass her Brexit plan. That means no deal is more likely than you think, Daniel Finkelstein writes in the Times.
Chaos Concern | Brexit is creating a sense of shared sadness from Brussels to Berlin, Bloomberg's Alan Crawford reports. "The dismal Brexit drama refuses to end," Mathieu von Rohr wrote in Der Spiegel on Tuesday. "British politics has become alarmingly chaotic — and this chaos can infect all Europe."
No-Deal Fears | British businesses are fretting about the future, Suzi Ring and Thomas Seal report. A parliamentary vote in January will be too late for many, according to Josh Hardie, deputy director-general at the Confederation of British Industry. "The more time is wasted, the more investment is lost for the U.K." 
Stop the Rupture | A European Commission plan seen by Bloomberg would ensure London's main derivatives clearinghouses could continue to serve clients in the European Union even in a disorderly divorce with no transition period. The policy paper is a step toward meeting industry demands for a so-called equivalence decision.
Crude Brexit | Intercontinental Exchange Inc. is betting it can keep its futures and options markets, home to half of the world's crude oil trading, in London in the event of a no-deal Brexit. That's a strategy at odds with the plans of almost every other major U.K.-based trading venue.
Unpredictable | Even the world's biggest money manager is puzzled by Brexit. "It's impossible to predict the outcome," Nigel Bolton, head of European equities at BlackRock Inc., said at a London briefing on Tuesday. "One thing I'll guarantee is there's going to be volatility in the U.K. equity market in 2019."
On the Markets | We asked traders for their views on the pound right now, and they didn't pull their punches. "It's a mess — in a world of turmoil Brexit has become a bit of comic relief, it's like a British comedy," said Shane Oliver, head of investment strategy at Sydney-based AMP Capital Investors. Sterling slipped further on Tuesday, and was at $1.2510 early on Wednesday.
Windy Outlook | Bloomberg's Brexit Barometer, our custom indicator of the U.K. economy, rose a touch in November as some measures of business sentiment improved. But the barometer stayed in "windy" territory for a third consecutive month.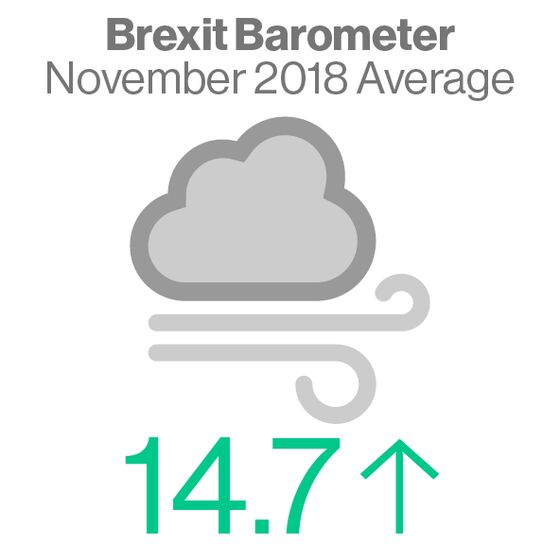 Want to keep up with Brexit?