Brexit Angst Hasn't Stopped This U.K. Asset From Outperforming
(Bloomberg) -- Mired in Brexit uncertainty, U.K. assets might not seem like a good bet this year, but one stands out.
Dividend futures on the FTSE 100 have outperformed Britain's equity benchmarks and bonds, as well as similar derivatives from major developed markets this year.
The U.K. has always been a dividend-rich market, but this time around, investors' expectations are especially buoyant. Forecasts for distributions to shareholders over the coming year are at the highest since 2005, according to data compiled by Bloomberg. Unlike cash equities, dividend futures have the benefit of delivery by a fixed date.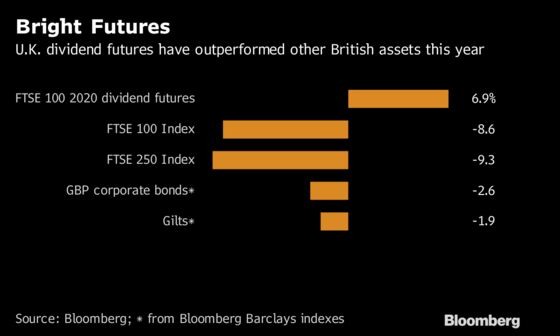 Energy is the largest industry group on the FTSE 100, and materials are the third-largest -- and that's where the bright spots are. Oil producers are benefiting from higher crude prices, and while weakness in emerging markets has pressured commodity prices, miners are in a better place to keep dividends sustainable, according to JPMorgan Chase & Co.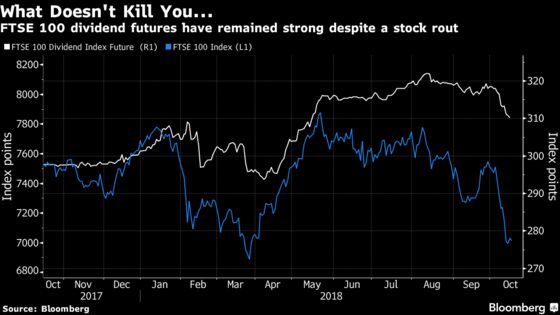 Of course, Brexit is the big question, but here dividend futures aren't in such a bad place either. JPMorgan recommends buying the derivatives due 2020, but hedging the currency exposure.
A deal "would lead to some degree of a rally in the pound, and it would negatively affect the dividend," said Davide Silvestrini, London-based head of European equity derivatives strategy at the U.S. bank. "In a hard Brexit scenario, my view is that the FTSE dividend futures would perform well because the negative impact on some of the domestic stock dividend expectations would be offset by the currency move."