Brevan Howard Hedge Funds Gain Up to 99% in Best-Ever Year
(Bloomberg) -- Brevan Howard Asset Management has recorded its best year since the hedge fund firm began investing nearly two decades ago.
The top performer at billionaire Alan Howard's firm last year was the U.S. Rates Opportunities Fund, which soared nearly 99%, according to a person with knowledge of the matter. The fund, created to place wagers on the U.S. yield curve and managed by Rishi Shah, was shut down at the end of November.
Fash Golchin's macro fund came next with a return of 60.5%, said the person, who asked not to be identified because the information is private.
The Brevan Howard Master Fund, the firm's main money pool, gained 27.4% in its best year since 2003, according to an investor letter seen by Bloomberg. That compares with a 7% average return for macro hedge funds. The biggest boost came in March thanks to gains from interest-rate bets, option trading in equity and credit indexes and from oil.
A spokesman for the Jersey-based investment firm run by Chief Executive Officer Aron Landy declined to comment.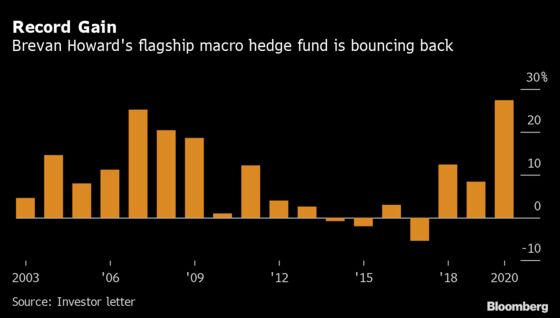 Brevan Howard is making up lost ground after years of mediocre returns shrunk its assets by more than 80% from a 2013 peak to about $6.4 billion two years ago. Clients are now returning, lured by improved performance and as rising volatility creates money-making opportunities for macro hedge funds. Its assets rose to about $11.4 billion at the end of November.
The firm's rebound was also fueled by a more than 100% gain in a hedge fund earlier last year that Howard personally manages. Full-year returns for the AH Master Fund, which invests money for the main hedge fund, the billionaire's own cash and for a few external investors, are not known.
Brevan Howard is among a string of macro hedge funds that posted stellar gains last year as market swings created fertile ground for traders who bet across asset classes. EDL Capital, started by former Moore Capital Management portfolio manager Edouard de Langlade, gained 23.4% for its best year since starting in 2015, according to a company spokesman.
Glen Point Capital, a hedge fund that started with money from investors including billionaire George Soros, recovered from losses in March to end 2020 up 14% in its main money pool, according to a person with knowledge of the matter, who asked not to be identified because the information is private. A spokesman for Glen Point declined to comment.
| | |
| --- | --- |
| Hedge Fund Returns for 2020 (%) | |
| Andurand Commodities Discretionary Enhanced | 154 |
| Brevan Howard U.S. Rates Opportunities | 98.8 |
| Andurand Commodities | 68.6 |
| Brevan Howard FG Macro Master Fund (Fash Golchin) | 60.5 |
| Odey Absolute Return Focus | 46.2 |
| Odey Special Situations | 42.8 |
| Brevan Howard Global Volatility Master Fund | 35.8 |
| Brevan Howard LB Macro Fund (Louis Basger) | 33.1 |
| LF Odey Absolute Return | 29.1 |
| Brevan Howard Master Fund | 27.4 |
| Kuvari Partners | 26.3 |
| EDL Capital | 23.4 |
| Brevan Howard Multi Strategy Master Fund | 21.1 |
| Brevan Howard MB Macro Master Fund (Minal Bathwal) | 17 |
| Brevan Howard Alpha Strategies | 15.4 |
| Brevan Howard AS Macro Master Fund (Alfredo Saitta) | 14.7 |
| The Children's Investment Fund | 14 |
| Glen Point Capital main fund | 14 |
| Odey European Inc. | -30.5 |