Brevan Howard Hedge Fund Rebounds With Best Run Since Crisis
(Bloomberg) -- Brevan Howard Asset Management's main hedge fund posted its best year since the end of the global financial crisis as the investment firm led by billionaire Alan Howard joined a number of macro managers in profiting from volatile markets.
The $2.7 billion Brevan Howard Master Fund gained 0.3 percent in December, bringing the return for the year to 12.3 percent, according to a letter to investors seen by Bloomberg News. That's the best performance since 2009. Most of the profits came in May when the hedge fund surged almost 8 percent.
A spokesman for the Jersey-based company declined to comment.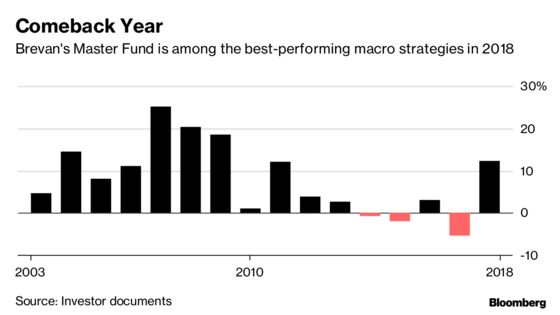 Hedge funds aiming to profit from macroeconomic trends are bouncing back from years of middling performance as rising volatility and a return to more normal interest rates create trading opportunities. Ray Dalio's flagship hedge fund at Bridgewater Associates rose 14.6 percent last year, and funds such as Odey European Inc. and Crescat Global Macro surged more than 40 percent.
The rebound comes after Brevan Howard's main fund suffered its worst year on record in 2017. Firm-wide assets have plummeted to about $6.6 billion as of October, from more than $40 billion in 2013, forcing the company to cut fees and start several strategies to stop outflows. The Master Fund's assets have declined from $28 billion more than five years ago.