Breakneck Speed of Sell-Off Puts Longest Bull Market in Jeopardy
(Bloomberg) -- In terms of sentiment shifts, few episodes compare with what's happening in U.S. stocks now. And with each lurch, the longest-ever bull market comes closer to ending.
Investors who three weeks ago were doubling down on the rally's longevity are being forced to unwind bets with a fury that is rarely ever seen. Engulfed in the quickest correction ever, American stocks are in serious danger of suffering the fastest bear-market plunge from an all-time high, unless the pace of selling slows.
If the rally that began 11 years ago Monday finally ends, a signature theme of its last chapter will be that hysteria broke out smack at the market's top and came with no prologue. Even the Crash of 1987, when the Dow Jones Industrial Average fell 22.6% in one day, occurred months after the peak was reached.
"We've gone from a state of euphoria to a state of pessimism," said Kevin Caron, portfolio manager for Washington Crossing. "That requires a fast adjustment."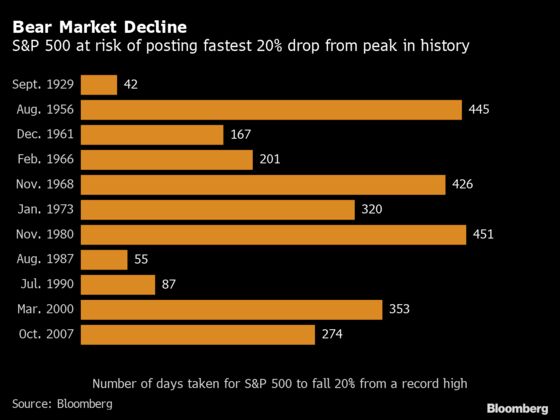 S&P 500 futures suffered one of their biggest spasms yet on Sunday night, extending a slide that left the March contract within 4% of completing the 20% tumble that traditionally denotes a bear market. In fact, it could be closer than that. The overnight sell-off triggered exchange circuit breakers that limit losses in futures to 5%. An exchange-traded fund tracking the S&P 500 that isn't subject to those curbs was changing hands 18.3% below its Feb. 20 high as of 8:16 a.m. in New York.
Should a 20% decline to 2,708.92 on the S&P 500 be completed before April 1, it'd mark the fastest slump into a bear market from a record high. During the 1929 Great Depression, it took 42 days to kill the bull.
The violence of the repricing can be seen in a set of charts that show investors scrambling to adjust to the coronavirus's impact. It's also, perhaps, a consideration for anyone using stock reactions as a litmus on the outbreak's toll. While the prospect of a pandemic is terrifying, part of the market's pain reflects its own excesses being unwound.
From computer-driven funds to stock pickers, money managers have been slamming the sell button. According to a survey by the National Association of Active Investment Managers, equity exposure at funds just had its biggest decline since 2014.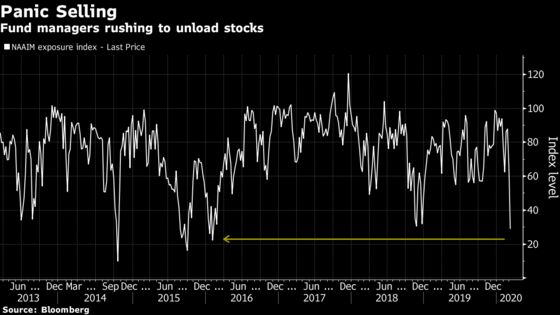 Commodity trading advisers, or trend followers known as CTAs, were likely "at the core" of the equity selling in late February, according to JPMorgan Chase & Co.'s strategists including Nikolaos Panigirtzoglou. Based on their estimates, the group went from a fairly long position in mid-February to fairly short at end of the month.
It created a "negative flow impulse," Panigirtzoglou wrote in a Feb. 28 note to clients. "Momentum traders were caught up with very long U.S. equity futures positions into the correction and were forced to unwind these positions abruptly, propagating their own negative momentum."
In an update Friday, Panigirtzoglou estimated that equity selling from CTAs in the final week of February approached $400 billion. Should the S&P 500 fall another 4%, that would trigger $120 billion of additional selling, he said.
At Deutsche Bank AG, strategists including Binky Chadha aggregated fund positioning and found their overall exposure has gone from "extremely overweight" to "very underweight." Measured against the past 10 years, the positioning indicator stood at the 5th percentile as of March 5, down from the 95th percentile a few weeks ago.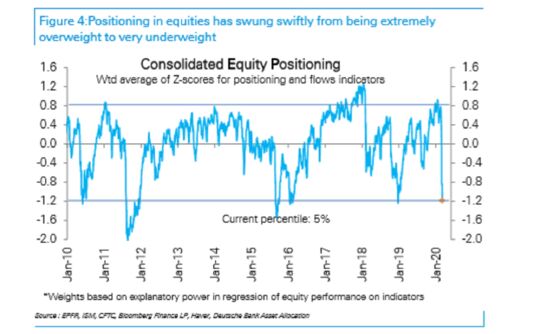 Equity bears, who have had a hard time staying in business during the 11-year equity rally, are getting a moment of vindication. A Goldman Sachs Group Inc. basket of the most-shorted stocks tumbled 14% in the final week of February, handing those betting against them the best gain since 2012. It fell another 5.6% last week.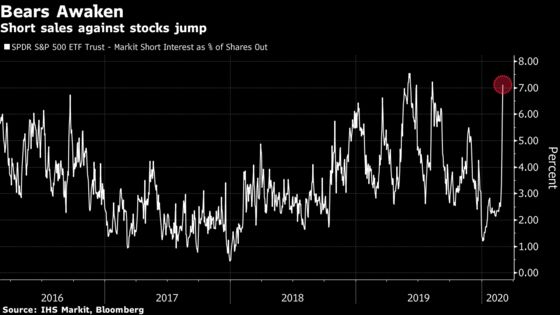 As market losses snowballed, short sellers kept boosting bets. The SPDR S&P 500 ETF Trust, ticker SPY, saw the amount of shorted shares rise to 7% of its total outstanding, according to IHS Markit data. At the start of the year, it was about 1%, the lowest since 2018.
In the derivatives market, panic has replaced euphoria. The 5-day moving average of the equity put-to-call ratio, which rises as bearish bets increases, jumped to almost 0.8, hitting the highest level since last August. A month ago, the ratio sat at a nine-year low of less than 0.5.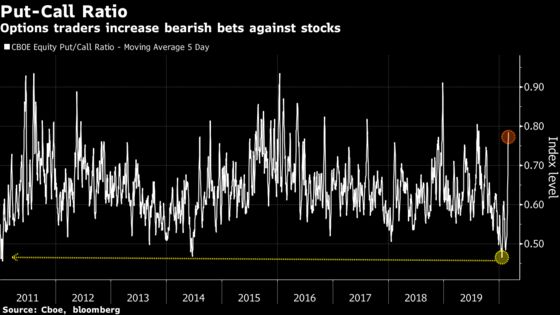 "The million dollar question is whether the stock-market drop in the last two weeks starts to spread the malaise from Wall Street to Main Street," Chris Rupkey, chief financial economist for MUFG Union Bank. "Stocks may be out in front of the economy with these double-digit recession magnitude losses. But the game is over if companies start to lay off workers because then a recession would mean the bull market in stocks is really over for the next few years."