Brazil Stock Bears Run Wild as Selling Pressure Hits 3-Year High
(Bloomberg) -- Brazil stock investors haven't been this anxious in almost three years, according to a technical measure of bearishness on the biggest exchange-traded fund tracking the country's shares.
The iShares MSCI Brazil ETF's DVAN trend line -- a proprietary divergence analysis that measures buying or selling pressure -- is on its longest selling streak since July-September 2015. The bigger the gap between the fund's price and the trend line, the stronger the negative pressure. It may also signal more volatility and downside to follow.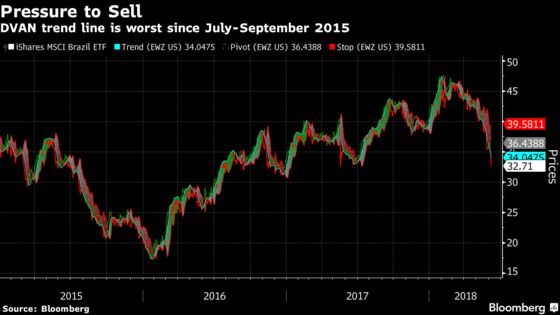 The ETF tumbled as much as 9.3 percent Thursday, its third day of declines, and traded at the lowest level since December 2016. Brazilian assets are being battered by growing pessimism toward the economy, concern profitability may erode at the state-controlled oil company and a presidential election in October that could usher in a new leader who is reluctant to pursue measures that would shore up the country's fiscal accounts.
The last time the DVAN trend line showed such bearishness on the ETF, in 2015, it plunged 38 percent from July through September of that year. The fund, which invests in mid- and large-cap companies representing 85 percent of Brazil's stock market, has fallen 19 percent this year.
"There's a huge concern over the electoral scenario and investors are searching for safety," Alberto Ramos, a senior economist at Goldman Sachs, said from New York.