Brazil's Next President Will Get Investors' Verdict in Japan
(Bloomberg) -- After Brazil's next president is announced on Sunday evening in Sao Paulo, investors will be able to take their position on an ETF that trades in Tokyo.
An exchange-traded fund from Japan that follows Brazil's Ibovespa stock index will be the first security to watch when official results from the runoff ballot emerge, followed by a fund in Singapore that tracks a separate index of Brazilian equities. Some U.S.-listed ETFs can trade at off hours, though it may be difficult to find counterparts at that time of day.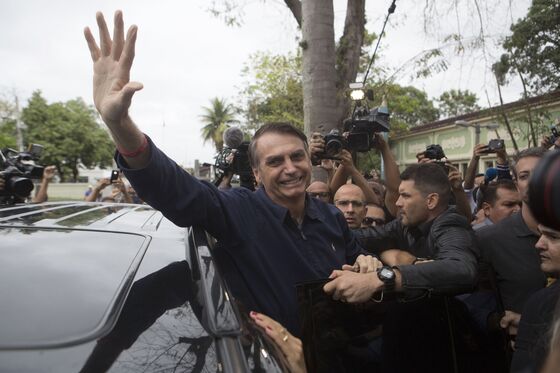 Exit polls for the runoff could appear as early as 6 p.m. New York time and official results are expected before midnight. The latest surveys showed far-right lawmaker Jair Bolsonaro winning over Fernando Haddad of the Workers' Party with a margin of about 15 percentage points. Brazil's top currency forecasters say there could be a short-lived rally if the outcome is confirmed, while some stock pickers see a massive rally ahead for the country.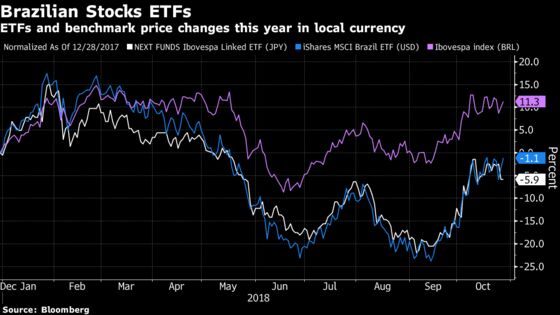 Currency traders won't have many ways to bet on the real directly overnight, but Mexico's peso will be trading in Asia and could be used as a rough proxy.
When European markets open, euro- and pound-denominated bonds issued by the government and big Brazilian companies could be an option for investors. The world of available ETFs will expand and there are also global depositary receipts of companies including state-run oil producer Petrobras and miner Vale in Germany.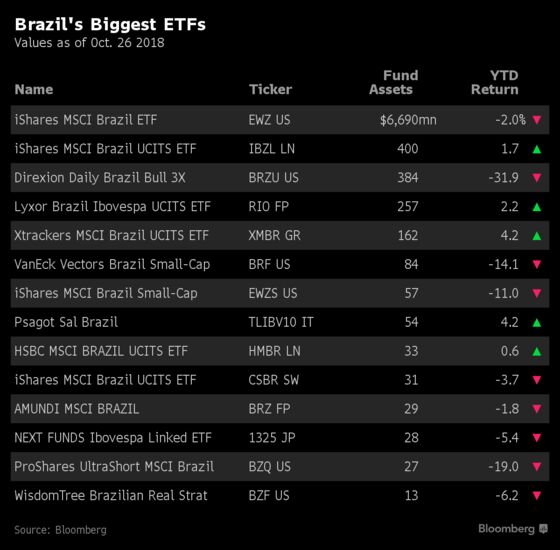 Follow live coverage of the election on TOPLive
Here's a list of the assets to keep an eye on before Brazil opens for business:
With trading in Brazil's currency restricted to local hours, the main one to watch will be the Mexican peso, which is fairly liquid and is often used as a hedge for the real.
Sovereign and Quasi-Sovereign Bonds
Brazil's government and biggest state-controlled companies don't have bonds denominated in Japanese yen, so debt trading will start when European markets open. Some of the sovereign dollar-denominated bonds are traded in European exchanges and may see price action. There are also sovereign bonds denominated in euros, and Petrobras has debt both in euros and British pounds. State-owned lenders Banco do Brasil and BNDES also have bonds that will trade before the U.S. market opens. Credit default swap contracts trade all-day long, although liquidity can be an issue. Here's a list of securities:
Brazil 2028 (USD)
Brazil 2037 (USD)
Brazil 2045 (USD)
Brazil 2021 (EUR)
Petrobras 2021 (EUR)
Petrobras 2022 (EUR)
Petrobras 2023 (EUR)
Petrobras 2025 (EUR)
Petrobras 2029 (GBP)
Petrobras 2034 (GBP)
BNDES 2019 (EUR)
Banco do Brasil 2019 (CHF)
Banco do Brasil 2021 (EUR)
Brazil 5-year Credit Default Swap (USD)
Petrobras 5-year Credit Default Swap (USD)
There are no Brazilian corporate bonds denominated in Japanese yen with meaningful liquidity, but some of the country's largest companies with no ties to the government have euro and pound-denominated debt. Here are the bonds to look out for:
BRF 2022 (EUR)
Vale 2023 (EUR)
Votorantim Cimentos 2021 (EUR)
Votorantim Cimentos 2022 (EUR)
ETFs
The first Brazilian asset to trade on Sunday will be a stock ETF that follows the Ibovespa index and is listed in Japan. There are also other few ETFs traded in Asia and Europe that track Brazilian assets. Here are the ones to watch:
NEXT FUNDS Ibovespa Linked Exchange Traded Fund (Japan)
Xtrackers MSCI Brazil UCITS ETF (Singapore)
iShares MSCI Brazil UCITS ETF USD Dist (London)
HSBC MSCI BRAZIL UCITS ETF (London)
Lyxor Brazil Ibovespa UCITS ETF (Euronext Paris)
Xtrackers MSCI Brazil UCITS ETF (Germany)
iShares MSCI Brazil ETF (U.S.)
Direxion Daily Brazil Bull 3x Shares (U.S.)
With no Japanese depository receipts of Brazilian companies, the first thing to watch in equities markets will be trading in Brazilian stocks listed on European markets. These are some depositary receipts to watch of the biggest companies:
Petrobras (Germany)
Petrobras (Gettex)
Vale (Germany)
Vale (European Composite)
Itau Unibanco (Germany)
Banco Bradesco (Germany)
Banco do Brasil (Germany)
Ambev (Germany)