Brazil's Monster Rally Due for Reality Check After Bolsonaro Win
(Bloomberg) -- The boom in Brazilian markets that came along with Jair Bolsonaro's rise to power is coming in for a reality check.
Stocks reversed an earlier gain and the currency headed for its biggest drop in two months Monday, a day after the far-right lawmaker was elected president with 55 percent of votes. It could be a signal that traders are looking for more evidence that Bolsonaro will actually pursue the economic moves his campaign promised, and investors salivated over, even if some aren't popular with most Brazilians. They want the stage set for a pension reform to be approved next year, a strong push to privatize state-run companies and the appointment of cabinet members in the mold of economic adviser Paulo Guedes.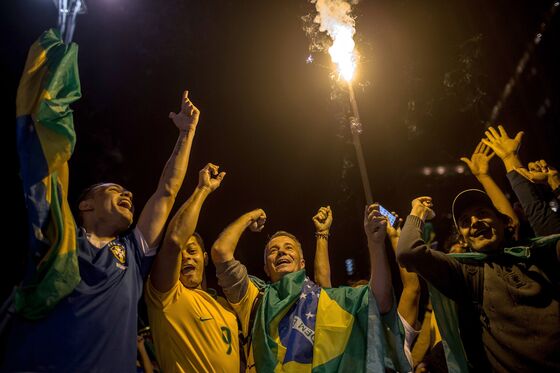 "There's a lot to do," said Will Pruett, a Boston-based money manager at Fidelity who runs a $450 million Latin American equities fund. "The economic challenges remain the same: reducing the fiscal deficit through a pension reform, improving competitiveness and productivity, reducing the complexity of doing business, tax reform, tariff reform."
The Ibovespa and the real posted the world's biggest gains over the past six weeks as investors started to price in a victory for the former army captain over Fernando Haddad of the Workers' Party, which investors despise for what they see as economic blunders over the past decade. While Bolsonaro professed an ignorance when it came to financial matters, traders put their confidence in presumptive finance minister Guedes, who founded a Rio de Janeiro-based private equity firm and has championed moves to shore up the budget.
| Asset | Percentage Change |
| --- | --- |
| Brazil's real | - 1.9 |
| Ibovespa | - 1.9 |
| Petrobras | - 4.2 |
| Vale | - 4.5 |
| iShares MSCI Brazil ETF | - 3.2 |
| BRAZIL 4 ⅝ 01/13/28 | - 0.1 |
| PETBRA 5.999 01/27/28 | + 0.7 |
The Ibovespa fell 1.9 percent in afternoon trading after climbing as much as 3.1 percent, while the real was 1.9 percent weaker after gaining as much as 1.5 percent. To be sure, the pullback happened after a recent surge in asset prices and anyone who invested in Brazilian assets in mid-September is still sitting pretty. But signs are emerging that analysts and investors want to see more before committing additional money to the country.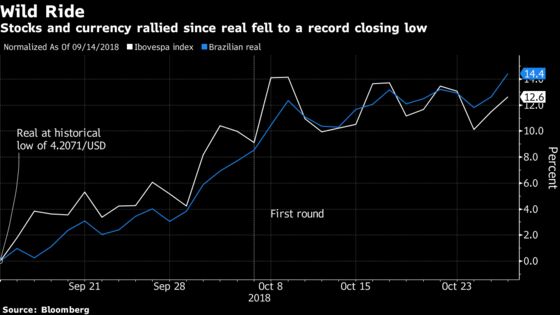 Here's what investors are going to be looking for in coming weeks and months:
Overhauling the country's expensive public pension system is investors' top priority. Strong confirmation that Bolsonaro plans to tackle the issue in his first months in office would go a long way toward reassuring traders that Brazil is putting itself on a prosperous path. But any legislation would be complicated and contentious, and likely to come in for stiff opposition from left-leaning parties in the fractured congress.
The most sensitive aspect of the pension reform is setting a minimum age for retirement, as Brazil currently doesn't have a fixed threshold. Passing such an unpopular measure proved to be challenging for outgoing President Michel Temer, who drafted a bill that was discussed by lawmakers but never reached a vote. Bolsonaro has already signaled he would prefer to come up with a completely new bill. Investors want him to go quickly.
"The market would probably need to see some concrete steps within the first year," said Delphine Arrighi, a fixed-income money manager at Old Mutual in London, who is overweight Brazil's local debt. "There is still value in rates, especially if the incoming administration manages to push ahead with some of the reforms they have been campaigning on."
Ilya Gofshteyn, a strategist at Standard Chartered Bank in New York, says markets will be focusing on Bolsonaro's speeches in search of more clues about his plans to tackle fiscal weakness beyond the pension reform. According to latest data, Brazil's general government gross debt amounts to 77.3 percent of the country's gross domestic product.
"Markets will be paying attention," he said. "At the least, there needs to be credible evidence of meaningful progress."
Even before Bolsonaro takes office Jan. 1, investors will want to get an idea of who will help him with economic matters. He has said Guedes will run the Finance Ministry. His picks for the leadership of state-controlled oil producer Petrobras and lender Banco do Brasil may be the next-most important positions. And if central bank President Ilan Goldfajn decides to depart, investors will want to see a replacement who is committed to economic orthodoxy and keeping inflation under control.
Investor speculation on who could replace Goldfajn has focused on two former central bank directors Luiz Fernando Figueiredo, who is also the founder of Maua Capital SA, and Mario Mesquita, currently the chief economist of Itau Unibanco SA, according to Hari Hariharan, the chief executive officer at Nwi Management LP, an asset manager that invests in Brazil since 1990. Either would be a good choice, he said.
Brazil's congress is notoriously chaotic, and investors will want to know how much support Bolsonaro can expect from lawmakers. His PSL party will see its ranks swell to 52 seats from eight in the lower house, but the body has 513 members, so he'll need to build alliances in an environment with dozens of parties vying to promote their own pet projects.
"Forming a strong coalition is going to be the first step," said Jay Jacobs, the head of research and strategy at Global X Management Co., a sponsor of exchange-traded funds founded in 2008.
Paulo Bilyk, the chief investment officer at Sao Paulo-based Rio Bravo Investimentos, says there are so many conflicting priorities among members of congress that it's going to be hard to push through reforms. Even inside the PSL there are conflicting thoughts, he said.
"What is most likely is that the new government will struggle to get reforms approved and solving the fiscal problem, but there will be some improvement," Bilyk said.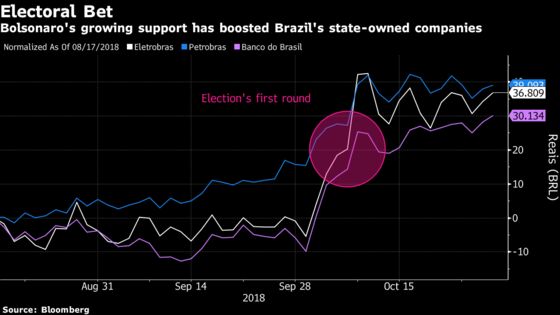 Bolsonaro and Guedes have pledged programs to completely privatize Brazil's biggest state-controlled energy companies, which could provide an immediate cash infusion to the country's coffers, slash future liabilities and make the companies more efficient, ultimately boosting economic growth.
Shares in state-run companies have been surging as a result. Petrobras, Banco do Brasil and electricity producer Eletrobras are up 11 percent, 14 percent and 14 percent, respectively, since Bolsonaro took a plurality of votes in the election's first round Oct. 7.
"Privatization would be a game changer, but I'd have to say I'm less optimistic on that," said Greg Lesko, a money manager at Deltec Asset Management in New York.
He expects Bolsonaro to appoint "a good team" and move forward with a market-friendly agenda. "But it's Brazil, so I'm conditioned to expect the unexpected."