Bolsonaro Taps Santander's Campos for Brazil's Central Bank
(Bloomberg) -- Economist Roberto Campos Neto will take the reins of Brazil's central bank under incoming President Jair Bolsonaro with the benchmark rate at a record low and inflation close to target.
Campos Neto, Treasury director for the Americas at Banco Santander, will replace Ilan Goldfajn, according to a text message from incoming Finance Minister Paulo Guedes. The appointment needs to be approved by Congress.
"Fantastic," Jan Dehn, the London-based head of research at Ashmore Group, which oversees $76 billion, wrote in a message. "This is very good news. He's a markets man who understands how the economy and markets work."
Campos Neto, 49, has spent most of the past 18 years at Santander's local unit, according to the bank's press department, and his name had been floated in local media and by transition officials as one of the main candidates to take over at the central bank. Goldfajn has run the bank since 2016 and oversaw an easing cycle that pushed the benchmark rate down to 6.5 percent from 14.25 percent, while getting consumer prices under control.
Goldfajn's continuation at Banco Central do Brasil had been in doubt since Bolsonaro swept to a resounding second-round election victory on Oct. 28. Since then, Bolsonaro, a former Army captain and lawmaker for nearly 30 years, has surrounded himself with liberal-minded economists amid plans to slash spending, privatize state-run companies and simplify the tax structure.
Guedes also said that Mansueto Almeida will remain as Treasury Secretary.
Campos Neto's nomination is unlikely to mark a major shift in Brazil's monetary policy, according to William Jackson, chief emerging-markets economist at Capital Economics.
"We still expect a gradual tightening cycle over the course of next year," Jackson said in a note to clients, adding that the new central bank chief may increase rates at his first meeting in early February as a way to "establish orthodox credentials." Brazil's benchmark rate is expected to rise by 2 percentage points next year to 8.5 percent, he said.
Goldfajn, who cited personal reasons for his departure, praised his successor as an expert in the financial system and economy, according to a central bank statement. Goldfajn also said he'll stay on the job until Campos's nomination is confirmed by the Senate and help manage the transition.
Campos Neto has an economics degree from the University of California, Los Angeles. Before moving to Santander, he worked at Banco Bozano Simonsen as a derivatives and rates trader and on the international fixed income desk.
His nomination is also symbolic. His grandfather was the Brazilian economist who as a planning minister under the rule of General Humberto Castelo Branco, helped implement a series of financial reforms that included the creation of the country's central bank in 1964. As a diplomat, Campos was also a Brazilian representative to the Bretton Woods Conference 20 years earlier.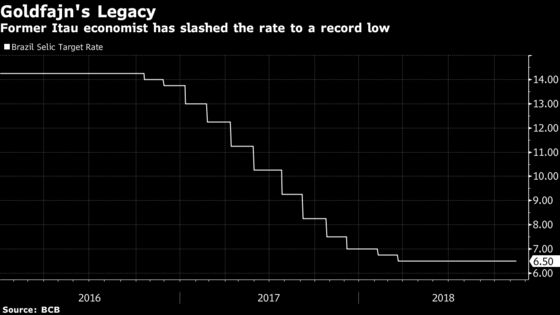 "Overall, I don't think this will move the markets a lot," said Tania Escobedo Jacob, a strategist at RBC Capital Markets in New York. "A couple of weeks ago we had the first headline about Goldfajn leaving the central bank and the real did not really react much because names like Neto were floating as potential substitutes."
While local Brazilian markets were closed Thursday for a holiday, the iShares MSCI Brazil ETF rose 3.3 percent.