Brazil Markets Rally as Bolsonaro Extends Lead Before Vote
(Bloomberg) -- Brazil markets jumped after a poll showed far-right presidential candidate Jair Bolsonaro got a boost a few days ahead of elections, while the support for Workers' Party's Fernando Haddad stalled.
The real posted the best performance among the world's major currencies, rising as much as 1.7 percent. The benchmark Ibovespa stock index advanced 3 percent, set for the best day since February, as state-run companies Centrais Eletricas Brasileiras SA and Petroleo Brasileiro SA jumped as much as 9 percent.
Support for Bolsonaro rose to 31 percent in the Ibope survey released Monday evening, from 27 percent in the last poll. Investors have latched on to the conservative as other market-friendly candidates failed to gain traction with voters. Although his economic policies are still unclear, the former army captain has enlisted an adviser who is in favor of privatizations and overhauling the pension and tax systems. Brazil markets have been volatile ahead of the first round of elections, which take place Sunday.
"Bolsonaro is and remains the preferred candidate by the market," said Bernd Berg, a strategist at Woodman Asset Management AG in Zug, Switzerland. If the conservative wins, he said, Brazilian assets will post a "staggering rally of more than 10 percent."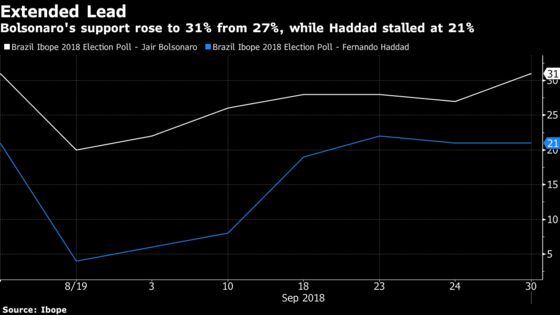 The fact that the latest opinion poll shows a bit of a "momentum stabilization" for Haddad is also bringing some relief to markets, according to Sacha Tihanyi, the deputy head of emerging-market strategy at TD Securities. "A Workers' Party government would not move as urgently on the fiscal front, which is the key overarching issue for Brazil" said Tihanyi.
Support for the former Mayor of Sao Paulo remained at 21 percent for the first round, but his rejection rate soared to 38 from 27 percent. Haddad and Bolsonaro are now tied for the run-off round, which is scheduled for Oct. 28.