Brazil Bulls Drive ETF Higher With Volume Almost Quadrupling
(Bloomberg) -- The Brazil bulls are back in town.
The $6.7 billion iShares MSCI Brazil ETF rose to the highest level since May 19, 2017 on Monday. Trading heated up for EWZ, the ticker of the largest exchange-traded fund tracking Brazilian equities, on the back of far-right candidate Jair Bolsonaro's lead in the first round of the presidential elections October 7. The ETF absorbed over 84 million trades worth $3.3 billion on Monday, the most since June and close to quadruple the average daily turnover for the past year.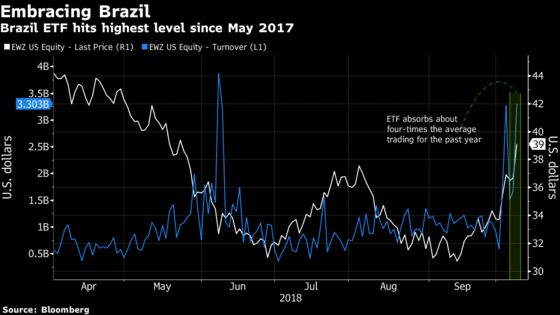 Bolsonaro led the first round of the election with more votes than polls forecast, and his allies also performed well in congressional races. The former army captain has pledged market-friendly policies and investors like his economic guru, Paulo Guedes.
Political consultancy Eurasia Group raised the chances of Bolsonaro being elected to 75 percent from 60 percent with polls showing strong anti-establishment sentiment, Eurasia's executive director for Americas Christopher Garman told Bloomberg.
"Bolsonaro is going to the runoff with very strong momentum," said Alberto Ramos, an economist at Goldman Sachs Group Inc. in New York.
Another exchange-traded fund with exposure to Brazil absorbed massive volume on Monday. Investors traded close to $20 million worth of the $29 million ProShares UltraShort MSCI Brazil Capped ETF, or BZQ, on Monday. That's close to 7 times the average daily turnover over the past year for the fund, which aims to give investors twice the inverse performance of the underlying portfolio.