A European Stock Investor's Guide to Earnings
(Bloomberg) -- Last week's market retreat caught many investors swimming in the buff, but now watchful eyes are on the earnings season to provide signals about the direction of stocks.
European earnings are of particular interest because their estimated growth this year is at just a quarter of the double-digit level of U.S. companies. The discrepancy has made investors shun the region's equities this year -- though that trend might reverse as the effect of the U.S. tax reform dissipates next year. And with traders' scrutiny shifting toward value shares, Europe is getting increased attention as a market with a large share of financials.
JPMorgan Asset Management strategist Ian Hui said it's important to see whether companies maintain their expectations for 2019, because tempered growth bets would mean stock valuations will need to be sheared. Morgan Stanley strategists, including Matthew Garman said in a note Friday that the "results are likely to be okay, though risks are skewed towards the downside."
The earnings week started with several ominous announcements, as ConvaTec Group plunged as much as 31 percent after lowering its full-year guidance and Superdry Plc tumbled as much as 22 percent after a profit warning.
Here are the things to look for as companies publish earnings:
Analysts have been slashing their 2018 estimates for the region's profits since August, Citigroup Inc.'s Earnings Revisions Index shows, recently cutting forecasts by the most in more than two years. Profit downgrades don't bode well for European equities, which have struggled to keep up with the U.S. market this year.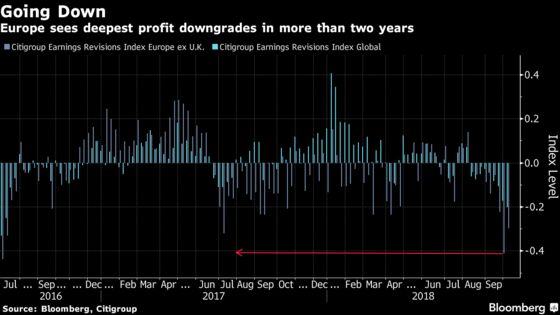 "Companies might use this opportunity to downplay earnings expectations, although I wouldn't expect that just yet because growth is still stable," Roelof Salomons, chief strategist at Kempen Capital Management NV in Amsterdam, said by phone. "I don't expect any upgrades, but I don't expect many downgrades either."
The energy sector is expected to post the strongest earnings growth in the third quarter, according to Deutsche Bank AG strategists led by Thomas Pearce. The picture is similar for the full year: analysts surveyed by Bloomberg expect 39 percent profit growth from the European oil and gas sector in 2018, the most of all sectors, compared to just 12 percent seen in April. Brent oil has surged more than 20 percent since April, and supply crunch fears have fueled appetite for energy shares.
Mining companies saw the second-highest earnings outlook upgrade in Europe relative to April, as investors bet that Chinese demand for metals will remain strong.
Energy companies may be winning from the surge in the oil price, but the consumer sector's earnings are likely to get hurt, according to Michael Bell, global market strategist at JPMorgan Asset Management. Compared to April, the European sectors, whose profit forecast got cut the most are consumer goods and services, industrials and telecoms.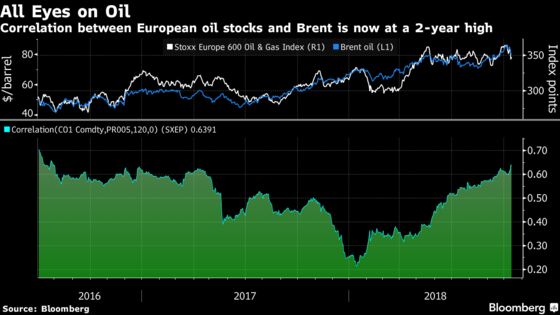 The financial sector will be in the spotlight because of a global rotation toward value stocks amid concerns about slowing growth. Analysts have raised their full-year expectations for European bank earnings from 3.9 percent in April to 5.3 percent in October, as the Federal Reserves pushes on with interest rate increases. Strategists, including Citigroup Inc., have recommended buying the region's banking shares on low valuations as the market anticipates the European Central Bank to increase rates next year.
"Financials will be in focus, investors will benefit from a change in interest-rate policy," said Guillermo Hernandez Sampere, head of trading at MPPM EK in Eppstein, Germany. "There is still a lot of value out there, so we expect a shift from growth to value stocks."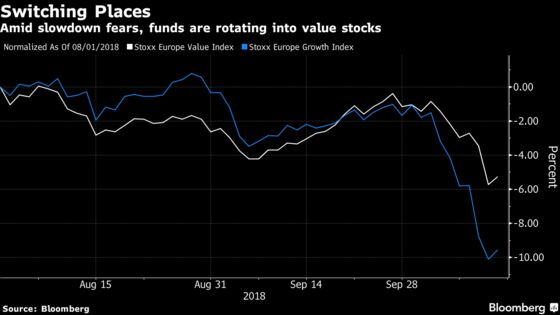 European stocks have already sold off so much and are so cheap that weaker earnings are already in the price, according to Emmanuel Cau, head of European strategy at Barclays Plc. U.S. equities' price-to-book premium over European stocks reached a record high earlier this month before narrowing following this week's sell-off.
"All in all, third-quarter results are unlikely to be great, but the sharp price-to-earnings de-rating year-to-date suggests that markets are already discounting weaker earnings," said Cau. "Amid increasing investor nervousness about softer growth, higher rates and messy politics, third-quarter results will be a reality check for the markets."