Brace, Brace as `Crazy Fed' Looks to December: Taking Stock
(Bloomberg) -- Euro Stoxx 50 futures are down 0.2%, along with S&P futures down 0.4%, after a short-lived rally that ended with U.S. equities finishing lower after a volatile session. Early traction faded in a sign that investors are not in risk-on mode just yet. Asian markets are weak this morning, Chinese stocks had a 2% drop and the yuan falling to its lowest level since January 2017.
A hawkish Fed took investors back to reality as it hinted at more rate hikes because of inflation concerns. A December hike now looks increasingly likely, with some strategists even anticipating a 50 points move, as well as with 3 to 4 additional ones in 2019. It was not a surprise that U.S. 10-year yields spiked above 3.20% again and propelled the dollar.
The next few days are likely to determine the direction as we get deeper into the earning season. As the euro sunk below $1.15, we may see a positive effect on selected exporters. Today has its lot of earnings with SAP, Nestle, Novartis, Ericsson and Unilever already out. All those and their respective sectors are stocks to watch. Norsk Hydro will also be worth keeping an eye on after Alcoa was up 4% in after hours trading, although they cut aluminum demand forecast which weighed on the metal. Most other base metals are weaker this morning as the dollar gets stronger, so miners may get some pressure.
European autos are entering the earnings season trading at their lowest valuation since 2012. The region's cheapest sector has been seen as a value trap for some time now, and analysts are still not upbeat about the sector, Goldman Sachs even warning that the third quarter was difficult for the industry and potential downward earnings revisions may be on the way. At 6.5x earnings, the sector is already trading at depressed levels.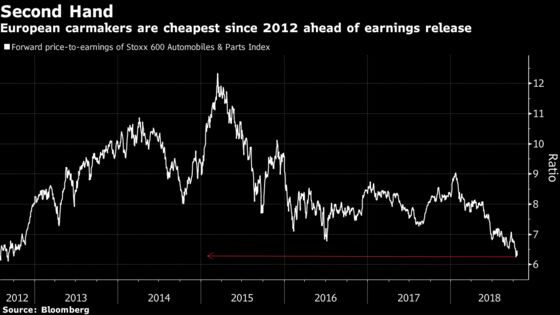 Large equity investors are not showing confidence. Investor AB, the Swedish Wallenberg family's holding company, is preparing for a potential weakening of the global economy. The company cited a long list of tail risks such as slowing leading economic indicators globally, softer demand in automotive, Brexit, Italy, currency devaluations in Argentina and Turkey, and a potential full-blown global trade war.
Elsewhere, Brexit had its new round of declarations with U.K. Prime Minister Theresa May willing to consider extending the transition period, infuriating Euro-skeptics and sending the pound back near $1.30. Retail sales may have an additional impact on the British currency. Italy should still stay in investors' minds with further criticism from the EU about the budget. In fact, the European Commission is not being accommodative with any member of the European Commission and will reject Belgium draft budgetary plan, according to De Tijd.
Finally a follow-up on German mid-caps ending bull market. We already mentioned the fundamental view of MKB-Pannonia Fund Manager on Wednesday, but according to technical analysis, the MDAX index may fall as much as 24% from current levels, adding to the index's 14% retreat from its record high hit in January.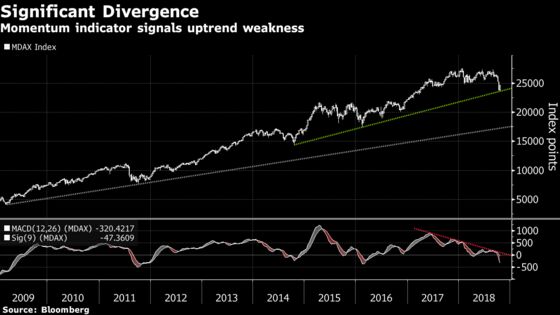 "Whilst the (FOMC) minutes were always expected to have a hawkish slant, the Fed leaning towards more rate hikes moving forwards, made an already jittery market more nervous," Jasper Lawler, head of research at London Capital Group, writes in a note. "Finding a bottom to the recent sell-off could take some time, with investors potentially waiting to see how the earning seasons plays out before making that call."
NOTES FROM THE SELL SIDE:
Moncler is now a buy for Jefferies. After the recent share price correction, the broker factored in a normalization of growth in Asia, but still sees strong momentum and branding effort.
Berenberg believes Soitec's increase to its FY19 Ebitda margin guidance underpins the view that there is good value in the shares, and co. offers significant and sustained earnings growth outlook.
RBC said Danone's portfolio is looking a lot better, and it's unclear why co.'s current combination of water and dairy/dairy alternative products shouldn't be capable of delivering similar revenue growth to Nestle
Novartis said it agreed to buy cancer drugmaker Endocyte for $2.1 billion, or $24 a share, raising its profile in the increasingly competitive and lucrative field of oncology.
SAP, Europe's biggest technology company, raised its projections for the year on accelerating momentum for its cloud business.
Ericsson is powering ahead in a turnaround effort set in motion by Chief Executive Officer Borje Ekholm, as the wireless network maker's third-quarter results showed carriers around the world are investing to start fifth-generation services, led by North America.
Watch Italian Stocks Amid Further EU Criticism of Budget Plans
HSBC Set to Become First Foreign Company to List in China: FT
GVC Holdings 3Q Net Gaming Revenue +14%; CFO Bowtell to Leave
Avast 3Q Adj. Revenue, Ebitda Grow; Keeps Outlook Unchanged
Takeda's Shire Deal Cleared by Japan Fair Trade Commission
Domino's Pizza Group Starts GBP25m Buyback; U.K. LFL Sales Rise
RWS Holdings Sees Full Year Sales At Least GBP305 Mln
Yara Third-Quarter Adjusted Ebitda Misses Lowest Estimate
Citycon Third Quarter EPRA EPS Beats Estimates
Unilever Sales Growth Picks Up Amid Modest Price Increases
National Express Third Quarter Revenue +9.5%
ABB Said to Work With Credit Suisse, Dyal on Power Grid Options
Libor-Rigging Guilty Verdicts Bolster U.S. Bid to Punish Traders
Nestle's Chief for Asia Resigns as Sales Growth Accelerates
Casino Agrees to Sell Real-Estate Assets for EU180 Million
Air France Unions Likely to Agree to Wage Deal in Days: Tribune
Com Hem Third Quarter Adjusted Ebitda Beats Highest Estimate
Ipsos: Acquisition of Market Pulse International Assets
Elisa Third Quarter Revenue Misses Lowest Estimate
Sligro Third Quarter Revenue EU591 Mln
Pernod Ricard 1Q Sales EU2.39b; Est. EU2.36b
Publicis Plans to Sell Health Unit That's Held Back Sales Gains
Autoneum Cuts 2018 Ebit Margin Forecast to Around 6% From 7%
Swiss Re Sees Claims of $1.1b from Natural Disasters in 3Q
Atea Third Quarter Ebit Misses Lowest Estimate
Tele2 Third Quarter Adjusted Ebitda Beats Highest Estimate
BioMerieux Third Quarter Sales Beat Highest Estimate
Thales Sees FY Organic Sales Growth, Ebit at Top End of Range
TECHNICAL OUTLOOK for Stoxx 600 index:
Resistance at 365.1 (38.2% Fibo); 371.9 (Sept. low)
Support at 362 (March low); 353.2 (50% Fibo)
RSI: 34
TECHNICAL OUTLOOK for Euro Stoxx 50 index:
Resistance at 3,262 (March low); 3,274 (Sept. low)
Support at 3,194 (50% Fibo); 3,072 (61.8% Fibo)
RSI: 37.2
MAIN RESEARCH AND RATING CHANGES:
UPGRADES:
ADO Properties upgraded to buy at ING; Price Target 60 Euros
BAT upgraded to buy at DZ Bank; PT 28 Pounds
Carrefour upgraded to buy at HSBC; PT 18.50 Euros
Moncler upgraded to buy at Jefferies; Price Target 40 Euros
OneSavings Bank raised to outperform at Macquarie
Prosegur Cash upgraded to outperform at BBVA; PT 2 Euros
Swatch upgraded to hold at SocGen; PT 356 Francs
Fresenius Medical downgraded to hold at DZ Bank; PT 72 Euros
Fresenius SE cut to hold at Independent Research; PT 66 Euros
Mediclinic cut to equal-weight at Barclays; PT 4.60 Pounds
Mediclinic cut to equal-weight at Morgan Stanley; PT 4.50 Pounds
Nordic Semiconductor cut to neutral at SpareBank; PT 40 Kroner
Norwegian Air downgraded to reduce at HSBC; PT 125 Kroner
SKF downgraded to sell at Berenberg
ASA International Group rated new buy at EFG-Hermes
Banca Sistema rated new buy at Kepler Cheuvreux; PT 2.70 Euros
MailUp rated new buy at UBI Banca; PT 3.63 Euros
Team17 Group rated new buy at Peel Hunt; PT 2.95 Pounds
Wirecard rated new buy at Guggenheim; PT 218 Euros
MSCI Asia Pacific up 0.8%, Nikkei 225 down 0.7%
S&P 500 little changed, Dow down 0.4%, Nasdaq down 0%
Euro down 0.12% at $1.1487
Dollar Index up 0.12% at 95.69
Yen up 0.14% at 112.49
Brent down 0.1% at $80/bbl, WTI down 0.1% to $69.7/bbl
LME 3m Copper down 0.6% at $6180/MT
Gold spot little changed at $1222.2/oz
US 10Yr yield little changed at 3.2%
MAIN MACRO DATA all times CET:
9:30am: (SW) Sept. Unemployment Rate, est. 6.0%, prior 6.1%
10:30am: (UK) Sept. Retail Sales Ex Auto Fuel MoM, est. -0.4%, prior 0.3%
10:30am: (UK) Sept. Retail Sales Ex Auto Fuel YoY, est. 3.8%, prior 3.5%
10:30am: (UK) Sept. Retail Sales Inc Auto Fuel MoM, est. -0.4%, prior 0.3%
10:30am: (UK) Sept. Retail Sales Inc Auto Fuel YoY, est. 3.6%, prior 3.3%