Algerian President's Faltering Health Set to Deepen Turmoil
(Bloomberg) -- Algerian President Abdelaziz Bouteflika's health has reportedly deteriorated, deepening the uncertainty over his push for a fifth term in office that's triggered unprecedented mass protests in the OPEC member state.
The 82-year-old Bouteflika's neurological reflexes have worsened and he requires constant care at the Geneva university hospital, Swiss daily Tribune de Geneve reported Wednesday.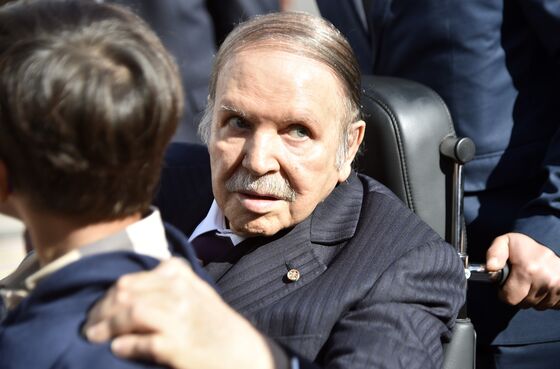 The development adds a new twist to the standoff between the regime and the predominantly young protesters who have rallied in their tens of thousands to demand Bouteflika withdraw from the April 18 race. Demonstrators brushed off as irrelevant his pledges to hold office for only one year if re-elected and to amend the constitution, and have called for millions of people to turn out on Friday.
Bouteflika suffered a stroke in 2013 that largely incapacitated him, and he hasn't given a public speech in years. Any serious deterioration in his condition could provide the ruling elite, known as "le pouvoir," with an exit strategy that allows them to anoint a replacement and split off those protesters who are fearful of unleashing a violent confrontation with authorities.
"Cracking down hard on protests and having Bouteflika re-elected would be a risky strategy for 'le pouvoir' not just because it could precipitate broader conflict, but also because it would erode the few shreds of legitimacy still enjoyed by the ruling elite," Anthony Skinner, Middle East and North Africa director at Verisk Maplecroft.
One option would be for them to "make more meaningful concessions without ultimately relinquishing power," such as by discharging Bouteflika on medical grounds and postponing the elections for a few months, Skinner said.
The call for a march this Friday of 20 million -- half the population -- is the latest attempt by activists to raise the pressure on authorities since protests began Feb. 22. They have demanded Bouteflika stand aside, but their grievances run deep after years in which the oil and gas exporter failed to create sufficient jobs and relied on state handouts it can no longer afford to keep the peace.
"The whole power structure, or pouvoir, stands discredited today in the eye of the protesters," said Ihsane Ell-Kadi, a prominent political commentator. "They can't force people to accept Bouteflika, it can cause an 'insurrection situation'."
In the latest sign of rifts opening in the regime's power base, a powerful movement representing veterans of the country's independence war threw its support behind the demonstrators. Already, several members of the ruling FLN party have resigned over the past few days.
In a speech Tuesday, the influential military chief of staff recalled another conflict -- the ruinous civil war of the 1990s -- as he warned against forces that sought to return Algeria to the "years of pain and fire."