Bottom Falls Out of Nasdaq, With Drop Breaking the Bull-Market Mold
(Bloomberg) -- Is the rout ripping through tech stocks just another garden variety correction? In the long sweep of history, yes. But compared only with sell-offs since the bull market began, it's starting to get extreme.
Monday's drop, which reached 3.1 percent at 1:15 p.m. in New York, is threatening to push the index below its closing low in October, a point many hoped would mark the bottom. The drop from the Aug. 29 exceeds 13 percent, making it the worst sell-off since 2015 and the third worst in six years.
Viewed another way: the Nasdaq 100 is still up 4 percent this year. But so good has its performance been in the last decade that a gain of that size qualifies as the second-worst annual return since the bull market began. The index has now had three separate 10 percent corrections in 2018, something that hasn't happened since the financial crisis.
"People put a lot of faith in tech companies to drive the markets higher, and to the extent that's not happening, that's very disappointing," said Chris Zaccarelli, chief investment officer at the Independent Advisor Alliance. "We'd need to see bullish company-specific news from one of the tech megacaps for investors to drive the prices higher, or we'd need the Fed to take a pause, or fear of a global growth slowdown to ease. We're not seeing that."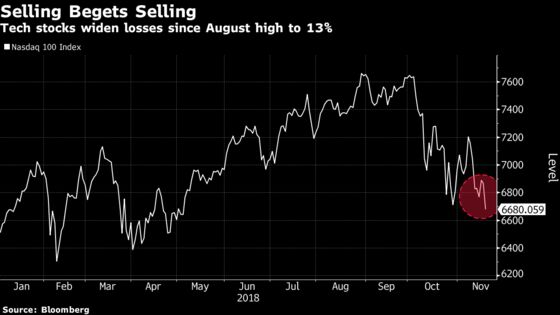 Tech stocks have been the biggest victims of a rout that has so far sent the S&P 500 down 8 percent amid fears over rising interest rates, slowing growth and a quarterly earnings disappointments from Netflix Inc. to Alphabet Inc. Optimism over tech profits helped lift the Nasdaq 100 after a bloodletting in February and March, but that's not happening this time.
Nvidia Corp. plummeted 7 percent on Monday and has now lost almost half of its value in the past seven weeks. Facebook Inc. fell 5.5 percent. Apple Inc. retreated 3.5 percent and Alphabet Inc. lost 3 percent. Hedge funds were net sellers of both companies last quarter, data compiled by Bloomberg show, with the likes of Appaloosa Management and Viking Global Investors cutting stakes. E-commerce giant Amazon.com Inc. lost 4.3 percent.
All told, the Nasdaq 100 Index has plunged 13 percent since hitting an intraday record on October 1. The correction is the biggest since the market rout following the yuan devaluation in 2015, data compiled by Bloomberg show.
To be sure, income for technology firms is still expected to rise 31 percent this year, outpacing the S&P's 24 percent advance. The gap will disappear in 2020, Bloomberg data show.