Boom Has Turned to Bust for Asia Hedge Funds
(Bloomberg) -- Last year's boom has turned to bust for Asia-focused hedge funds.
Eleven percent of funds tracked by Eurekahedge Pte. lost at least 20 percent in the first 10 months of the year. And almost 72 percent of those that posted double-digit gains in 2017 -- the best year for regional funds since 2009 -- are in the red this year.
The sudden reversal of fortune is making it harder for Asian hedge funds to shake off their image as beta-chasers -- those that can only make money in a rising market. The stock-heavy nature of the industry -- 64 percent of assets are controlled by equity-focused managers -- hasn't helped as rising interest rates and trade and political tensions sparked widespread selloffs.
Read more: Asia-based macro funds stumble amid stocks sell-off
Almost three-quarters of stocks in the MSCI Asia-Pacific Index have fallen in 2018. The Eurekahedge Asian Hedge Fund Index has dropped 6.4 percent this year, and is at risk of its second-worst performance since the Singapore-based firm started tracking data in 2000.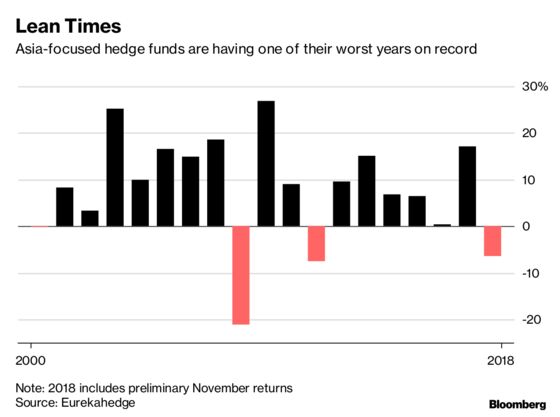 Many hedge funds that wished for greater stock swings to make their bearish bets more profitable found the return of volatility hasn't helped them stand out this year.
After stripping out the top 5 percent and bottom 5 percent of funds, the range of returns this year is significantly lower than in 2017 and comparable to those seen in the 2015 China equity market crash, said Mohammad Hassan, head analyst for hedge fund research and indexation at Eurekahedge.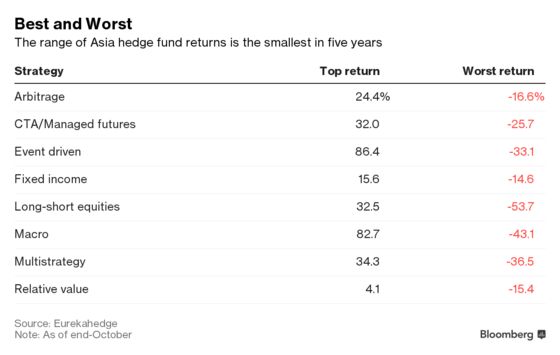 "The dispersion of returns has gotten compressed in 2018 after the 'bonus-round of sorts' for hedge funds in 2017," Hassan said. "The persistence factor for returns of many Asian hedge funds has been pushed to the test in 2018."