Bongo Expected to Tighten Control of Gabon in Legislative Vote
(Bloomberg) -- Gabon is holding parliamentary elections that the main opposition leader is boycotting following a 22-month delay that allowed President Ali Bongo to expand his powers through constitutional reforms.
Saturday's vote will probably tighten the ruling party's grip on the central African nation that the Bongo family has dominated for half a century. The Gabonese Democratic Party had 113 of 120 seats in the National Assembly until May, when the Constitutional Court dissolved parliament because a deadline to hold the elections passed. The Senate then took over Parliament's functions.
The elections "have little importance other than to reinforce the current administration," said Wilson-Andre Ndombet, a political analyst at Omar Bongo University in the capital, Libreville.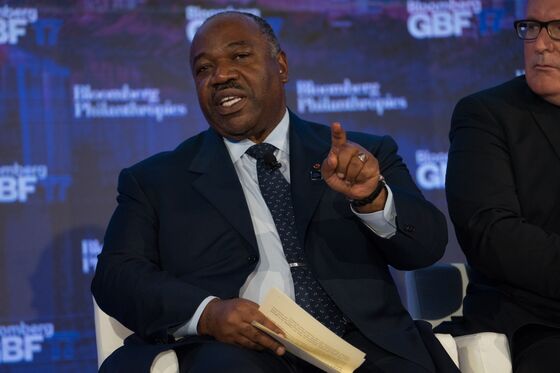 The electoral commission in OPEC's second-smallest oil producer postponed the vote initially due in December 2016 twice, saying it needed more money and time to complete reforms. The opposition alleges that the delays made it easier for Bongo, 59, to win approval of constitutional changes in January that allow him to implement policies without consulting the legislature. Under the new law, Gabon's defense and security chiefs are required to swear allegiance to the president.
While the vote is being shunned by opposition leader Jean Ping, who narrowly lost to Bongo in the country's closest-ever presidential elections in 2016, his spokesman Jean Gaspard Ntoutoume Ayi as well as several other opposition politicians have urged people to cast their ballots in the first legislative vote since 2011. The government decided this year to expand the number of parliamentary seats to 143 and cut the Senate to 52 seats from 102.
Despite their failure to present a united front, Bongo's opponents are bound to fare better than seven years ago, when most opposition parties boycotted the vote, said Maja Bovcon, senior Africa analyst at U.K.-based Verisk Maplecroft. A second round will follow Oct. 27.
Bongo's government agreed to a series of spending cuts last year to obtain a $642 million loan from the International Monetary Fund after oil income dropped. Half of the workforce in the prime minister's office was scrapped, while the number of employees in Bongo's office was reduced to 1,261 from 1,600.
The nation of less than 2 million people also began exporting palm oil and has stepped up manganese mining to make its economy less dependent on crude.
Bongo's father, Omar Bongo, ruled Gabon for more than four decades until his death in office in 2009.