Bonds Sink, Stocks Jump as Sri Lanka Turmoil Spurs Extreme Moves
(Bloomberg) -- Sri Lanka's sovereign dollar bonds and the rupee plunged to record lows, while the nation's stocks surged the most in five years, as the political turmoil sent equity and bonds investors to opposite ends of the risk spectrum.
Moody's Investors Service said the crisis would inflict lasting damage to investor confidence. Stock bulls, including Mark Mobius took a different view, namely that the upheaval may pave the way for a government focused on boosting economic growth.
Sri Lanka's 6.75 percent 2028 dollar bonds fell 3 cents to a record low of 87.8 cents on the dollar, the most since the debt was sold in April, and the rupee slid 0.7 percent to a life-time low of 174.15 per dollar, after Former Sri Lankan President Mahinda Rajapaksa was sworn in as prime minister in a move that current leader Ranil Wickremesinghe described as an "anti-democratic coup." The Colombo All-Share Index rallied 1.9 percent, the biggest gain since September 2013.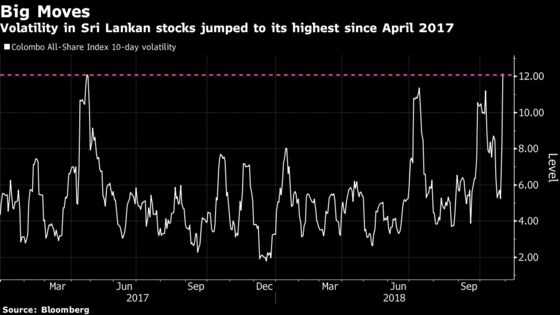 Sri Lankan President Maithripala Sirisena said he abruptly fired the island nation's prime minister in part because he failed to properly investigate an assassination plot against him.
The upheaval comes as Sri Lanka faces significant bond maturities, including a $1 billion bond due in January and a $500 million debt due in April, according to data compiled by Bloomberg. The crisis is credit negative and uncertainty about the direction of Sri Lanka's future policy could dent investor confidence, Moody's said.
Still, there may be a silver lining to the political problems as there could be a more focused government program with Rajapaksa back in the driver's seat, Mark Mobius, co-founder of Mobius Capital Partners, said in a Bloomberg interview.
"We could see some positive sentiment from local investors who perceive that Sirisena and Rajapaksa could work better together to boost growth," says Adrian Perera, chief operating officer at Equicapital Investments in Colombo. "Foreign investors will hold back but we can expect Chinese investments to come in and even boost the currency."