Korea Bonds Defy Emerging-Market Sell-Off for These Reasons
(Bloomberg) -- South Korea's bonds are proving to be a magnet for inflows, even as other emerging markets struggle to lure back overseas investors amid the coronavirus outbreak.
Foreign funds have bought a net $22 billion of the Asian nation's debt this year, up from just $8 billion in the same four months of 2019, according to data compiled by Bloomberg. At the same time, they have withdrawn a combined $41 billion from six of the other largest developing nations, namely India, Indonesia, Thailand, Mexico, Turkey and South Africa.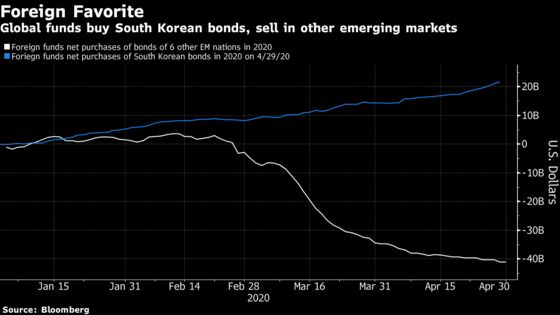 Those inflows are helping support South Korea's bond market as the government funds an aggressive stimulus program to counter the economic impact of the coronavirus. The purchases also underscore how investors are becoming more discerning as the focus of markets shifts to which assets will lead the recovery from the pandemic.
Below are three factors that are driving the current inflows into Korean bonds:
The ability to pick up extra yield through putting in place currency hedges for holdings of Korean debt is one of the central factors burnishing the appeal of the securities.
Demand for dollars in South Korea is so strong that overseas investors who lend their U.S. currency in exchange for won can extract higher premiums than they can get in other neighboring countries. Lending the U.S. currency via foreign-exchange swaps and using the proceeds to buy Korea's three-year bonds sees investors getting a yield spread of almost 160 basis points over similar-maturity U.S. Treasuries, according to data compiled by Bloomberg.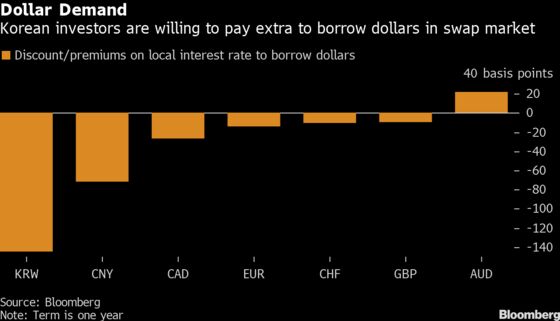 "Korean won cross-currency bases are still very wide and FX-hedging offers significant yield pick-ups over U.S. rates," said Duncan Tan, a strategist at DBS Group Holdings Ltd. in Singapore. "As such, it should be an easy decision for foreign bond investors to choose to hedge Korean won exposure."
2. Attractive Credit Rating
Another major allure of Korean debt is the nation's relatively high credit rating. The bonds are ranked Aa2 at Moody's Investors Service, and AA at S&P Global Ratings, both the third-highest investment grade, while they are assigned AA- at Fitch Ratings.
S&P affirmed its rating on the nation's debt earlier this month and said Korea's robust credit metrics can absorb the temporary shock from the coronavirus outbreak, even though it will see the economy contract for the first time since 1998.
Read more: Korean Bonds Top Emerging Asia Scorecard as Malaysia Lags
"Korean bonds are often seen as a safe haven, given their high credit rating, strong fundamentals and developed market-like characteristics," said Andre de Silva, global head of emerging-market rates research at HSBC Holdings Plc in Hong Kong. About 55% of the foreign holders are central banks, which suggests Korean debt is considered a substitute with those of major developed nations in their reserve management, he said.
Another attraction is the level of yields compared with those of Asia's other highly-rated sovereigns. Korea's benchmark 10-year bond offers a yield of 1.5%, compared with 1.14% for Thailand, 0.90% for Singapore and just 0.48% for Taiwan.
"Korea government bond yields are not the lowest in Asia," said Ng Kheng Siang, Asia Pacific head of fixed income at State Street Global Advisors in Singapore. "It is also a large bond market in Asia after China and Japan, with bond futures and other derivatives for hedging. With Korean economy slowing down, there is still prospects of further rate cut."
In addition to the above factors, the central bank's determination to help markets with a $60 billion swap line with the Federal Reserve along with its vow for unlimited liquidity for financial institutions are among other positives. The government has also created a 20-trillion-won ($16 billion) bond market stabilization fund in March, which will buy corporate bonds and commercial paper.
"The market should be supported by Bank of Korea's commitment to provide liquidity and the government's establishment of a Bond Stabilization Fund," said Sue Trinh, managing director for global macro strategy in Hong Kong at Manulife Investment Management. "We generally consider the Korean treasury bond market a safe haven."