Bond Traders to Powell: The Ball Is in Your Court for 2019 Path
(Bloomberg) -- There's a lot at stake for investors in the days ahead when it comes to potential signals from the Federal Reserve.
For starters, this week brings a speech from Fed Chairman Jerome Powell, which observers will be scrutinizing to see if the market has gone too far in pricing out interest-rate increases amid the sell-offs in stocks, credit and crude oil. Global trade concerns could also sway risk appetite as U.S. President Donald Trump prepares to meet China's Xi Jinping. Futures are now only factoring in a little more than one of the three quarter-point rate hikes that Fed officials in September projected as likely for next year.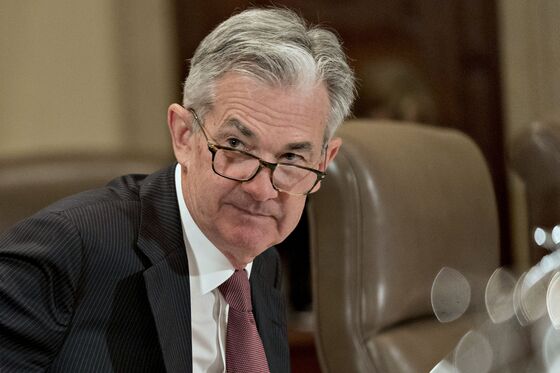 Investors also want answers to one of the biggest questions facing debt markets -- the fate of the central bank's $4.1 trillion balance sheet. In August, officials hinted they might discuss their plans for the portfolio before the year was out, so some analysts see potential for insights in the release on Thursday of minutes from the central bank's November policy meeting. The eventual size of the balance sheet has implications for everything from the Treasury's borrowing needs to bank reserves and how the Fed controls its policy rate.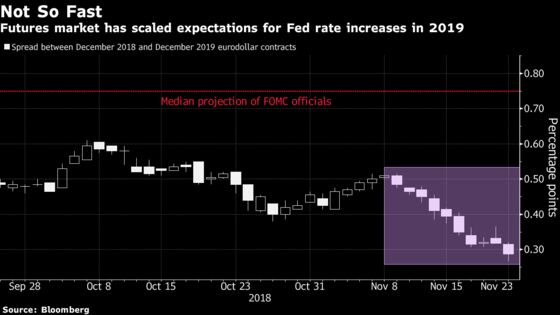 "The huge question outstanding is whether Powell will try to provide any forward guidance around the balance sheet," said Jon Hill, an interest-rate strategist at BMO Capital Markets in New York. "But the bigger question is whether the market is getting a little bit ahead of itself in pricing out future rate hikes."
A December rate increase is still largely baked in by the market. But the spread between December 2018 and December 2019 eurodollar futures -- a measure of how much tightening traders expect next year -- has plunged, dropping to as little as 27 basis points on Friday. That was the lowest level in six months and less than half the gap from mid-October.
Traders started scaling back their expectations for increases earlier this month after Powell acknowledged that slowing growth abroad, fading fiscal stimulus and the lagged effect of tightening are issues the central bank is watching. Vice Chairman Richard Clarida, who is also scheduled to speak in the coming days, helped add to the more dovish tone when he referred to the slowing of the global economy in an interview with CNBC. New York Fed chief John Williams is also scheduled to make an appearance this week, along with a slew of other central bank officials.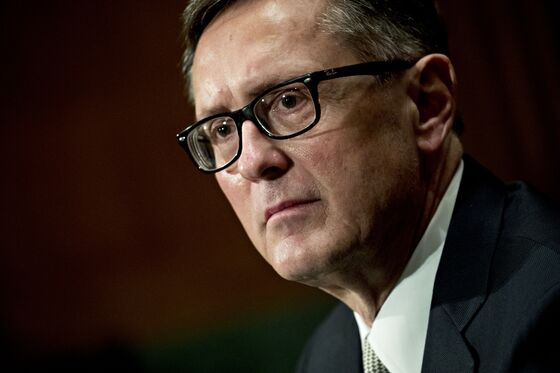 On top of signals about the path of rate increases, market participants will be parsing minutes of the Federal Open Market Committee meeting for any discussion of the central bank's policy framework, including the balance sheet. Strategists have been longing for officials to talk openly about the central bank's toolkit, especially since the effective fed funds rate rose to 2.20 percent last month, putting it on par with the interest on excess reserves rate for the first time in this tightening cycle.
"Hopefully we get something more substantial," TD Securities rate strategist Gennadiy Goldberg said of the minutes. "The more information we get the better."
Group-of-20 Leaders' Summit starts in Buenos Aires on Friday, Nov. 30; Trump and Xi have tentatively agreed to meet and discuss trade issues on the sidelines of the gathering
The big event for U.S. economic data is the personal income and spending report

Nov. 26: Chicago Fed business index; Dallas Fed manufacturing gauge
Nov. 27: FHFA house price index; S&P CoreLogic home prices; Conference Board consumer confidence
Nov. 28: MBA mortgage applications; second estimate of third-quarter gross domestic product; new home sales; Richmond Fed manufacturing index; trade balance for October; wholesale and retail inventories for October
Nov. 29: Weekly jobless claims; personal income and spending; pending home sales
Nov. 30: Chicago purchasing managers index

Fed members get busy

Nov. 27: Vice Chairman Clarida is speaking in New York, as are the Atlanta Fed's Raphael Bostic, the Chicago Fed's Charles Evans and Esther George from the Kansas City Fed
Nov. 28: Fed Chairman Powell speaks in New York
Nov. 29: FOMC Minutes; Powell greets students at Fed competition; Evans and Dallas Fed President Robert Kaplan both make appearances in Boston
Nov. 30: New York Fed's John Williams speaks in New York

Here's the schedule for Treasury auctions

Nov. 26: $39 billion of three-month bills and $36 billion of six-month bills at 11:30 a.m. New York time; $39 billion of two-year notes at 1 p.m.
Nov. 27: Four-week bills and eight-week bills at 11:30 a.m.; $40 billion of five-year notes at 1 p.m.
Nov. 28: $18 billion reopening of two-year floating-rate notes at 11:30 a.m.; $32 billion sale of seven-year notes at 1 p.m.