Bonds Get a Taste of What Happens When Central Banks Step Back
(Bloomberg) -- Bond traders just had an inkling of what it could be like when central banks and pension funds aren't there to support them.
Japan's bond futures tumbled by the most since 2016, triggering margin calls for investors, after the country's worst 10-year debt auction in three years. Japanese government bond yields climbed and the curve steepened, while the sell-off also spilled into Treasuries and European debt even as euro-area data showed inflation remains lackluster.
Behind the sudden collapse in JGBs lies the prospect that the Bank of Japan may slash bond purchases in October, and an announcement that the Government Pension Investment Fund is pivoting toward buying more foreign debt. All of a sudden, investors were left wondering what other changes were in store.
The updraft in global yields as the Bank of Japan steps back from longer-term bond purchases is a sign of things to come, according to Bleakley Financial Group Chief Investment Officer Peter Boockvar. "The August lows in yields will be the low for a while," he said in a note.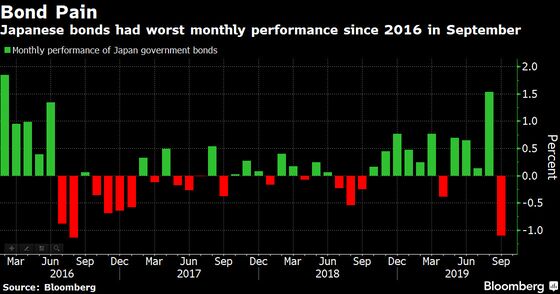 Futures of 10-year Japanese notes on Tuesday slid as much as 0.97 yen to 154.05. The auction of 10-year debt drew a bid-to-cover ratio of 3.42, the lowest since 2016, with the cut-off price of 102.33 falling short of the 102.64 estimated by traders.
"The BOJ's operation change had a huge psychological impact," said Eiji Dohke, chief bond strategist at SBI Securities in Tokyo. "Investors are reluctant to buy given the risk of the BOJ skipping a purchase."
Japanese sovereign bonds were already reeling from September, when they lost 1.1%, the first monthly decline since April, according to a Bloomberg Barclays index.
The BOJ on Monday cut purchase ranges for four major maturities, and indicated it may even stop buying debt of more than 25 years. It also suggested that it could skip buying operations as needed as it sought to steepen the yield curve.
"I always thought it was going to be a bout of higher inflation that was going to end the central bank monetary madness, but maybe it's just the realization that you need a functioning banking system in order to have a growing economy," said Bleakley's Boockvar.
Yields on Japan's 10-year cash bond rose 6 basis points to minus 0.16%. They also climbed 8 basis points for Treasuries with a comparable maturity to 1.74%. Similar German bund rates advanced around 5 basis points, while U.K. gilt yields rose almost 7 basis points.
Globally though, major central banks show little inclination to pull back support. The European Central Bank last month announced it was restarting quantitative easing, and there is speculation that the Federal Reserve will need to bulk up its balance sheet further in the wake of recent money-market turmoil.
Investors are waiting for the Japanese central bank's first bond purchase operation for this month on Friday. Meanwhile, they also have to assess the long-term implications from GPIF's announcement Tuesday.
The world's largest pension fund said it will consider currency-hedged overseas bond holdings as similar to domestic debt investments. That will allow GPIF to buy more foreign debt, as it's already close to the 19% limit in its current mandate.
Takahiro Sekido, a strategist at MUFG Bank Ltd., estimated GPIF may allocate more than 30% of its existing JGB holdings to currency hedged-foreign bonds.
"There could be many funds following GPIF's allocation change," said Sekido, a former BOJ official. "Japanese bonds have reached the point where it's almost impossible to buy."