Bond Traders Lean Toward Higher U.S. Yields Amid Georgia Runoff
(Bloomberg) -- Traders are factoring in a greater chance of a Blue Sweep in the U.S. Senate runoff election results in Georgia, with the U.S. yield curve steepening to multi-year highs on the prospect of more-generous government spending.
The benchmark 10-year Treasury yield rose four basis points to just under 1%, indicating that traders see the Democrats picking up the two seats.
The outcome is seen as having huge implications for Treasury supply this year, as well as the direction of yields. A unified Democratic government is expected to provide a green light for additional fiscal stimulus, spurring more bond issuance and higher yields on longer-maturity Treasuries.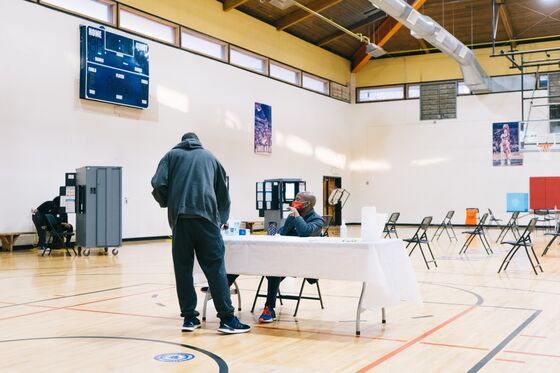 "If both seats flip to Democrat, the 10-year could well breach 1%," said Priya Misra, global head of rates strategy at TD Securities in New York. "The market will price in more fiscal stimulus and Treasury will need to increase coupon sizes."
The yield curve between the five- and 30-year points rose to its steepest level since November 2016, when Donald Trump's election sparked trades premised on stronger growth and higher inflation. Real yields have dropped to a record low in a sign of rising inflation expectations. With oil prices gaining, traders now see U.S. inflation averaging just over 2% per year over the coming decade, the highest level since 2018.
Separately, the latest JPMorgan Chase & Co. Treasury client survey found the biggest share with short positions since October 2018, an indication of expectations that yields are headed higher. And in Treasury options, the cost of buying puts to protect against an upside move in long-end Treasury yields over the next month, versus purchasing calls to hedge against a downside move, has become skewed to the most since November.