Bond Titan Says Betting That Fed Hikes Are Over Is 'Very Misguided'
(Bloomberg) -- A $150 billion debt investor warns markets are getting ahead of themselves with big bets that the Federal Reserve is taking an extended pause in raising interest rates.
"The market's assumption that the Fed will not raise interest rates at all this year is very misguided, against a background of continued economic strength," Sonal Desai, chief investment officer for the fixed-income group at Franklin Templeton, wrote in a blog post this week on the heels of the Fed's dovish shift. "Expectations that the U.S. economic cycle is coming to an end are highly overstated."
Desai forecasts at least two hikes this year as policy makers respond to the risk that wage growth fans inflation. That's at odds with traders who've priced out the hiking cycle and have upped wagers on cuts in 2020.
The bullish Treasury camp got a boost on Friday from data that showed that wage gains cooled in January and the government shutdown pushed up the unemployment rate.
Desai's view sheds light on the strategy at the heart of the firm's Global Bond Fund that she helped manage with Michael Hasenstab before her elevation to CIO in September. Her fixed-income unit is run separately from the global macro team, which is famed for contrarian bets.
Average duration, a measure of sensitivity to changes in interest rates, dropped to minus 1.6 years in the $33.5 billion Templeton Global Bond Fund at the end of December.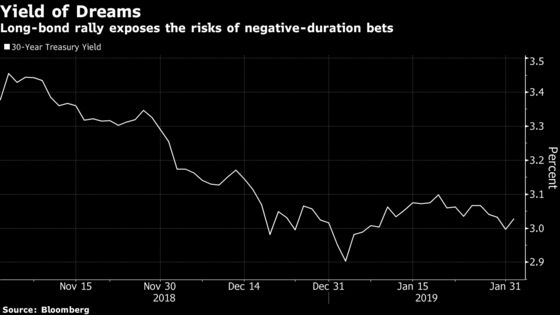 That strategy helped it outperform peers last year as Treasury yields climbed to the highest level in more than seven years. Its overweight positions in emerging markets may be helping to offset exposures vulnerable to the new-year rally in developed debt.
Desai concedes that the partial government shutdown will curtail economic growth in the first quarter but says that output will simply be shifted into the second-quarter reading. Overall, the investor sees 2019 expansion moderating on last year's pace -- but still above potential.
"It seems the entire world is thinking about a U.S. recession, not about inflation. But barring a major external shock I really don't think the threat of recession is imminent," she wrote. "The U.S. has a very strong labour market, which is starting to push up wages, while robust consumption supports firms' pricing power."