Bond Lull Lures UAE Issuers at Opposite Ends of Credit Scale
(Bloomberg) -- United Arab Emirates borrowers at the opposite ends of the credit-rating spectrum are seizing on a lull in the U.S. Treasury rout to sell bonds.
Abu Dhabi wealth fund Mubadala Investment Co. is planning a dual-tranche offering denominated in euros, according to a person familiar with the matter. Mubadala issues its debt through a unit, Mamoura Diversified Global Holding PJSC, which has the third-highest credit grade from all three major rating companies.
Sharjah, a sheikdom with the lowest non-junk rating at Moody's Investors Service and S&P Global Ratings, mandated HSBC Holdings Plc this week to arrange a sale of 12- and 30-year dollar bonds.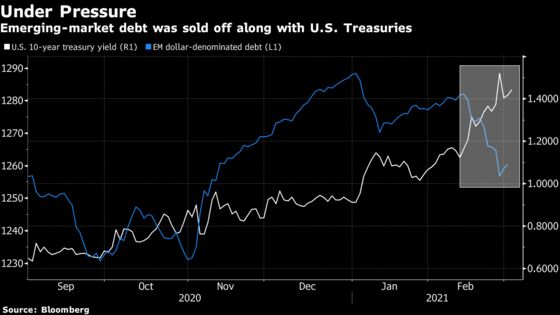 "What will be interesting to see is how much demand there is for long duration emerging-market paper now," said Abdul Kadir Hussain, the Dubai-based head of fixed-income asset management at Arqaam Capital. "With interest-rate volatility increasing and inflation becoming a bigger risk, I think investors are getting more weary of duration."
February was the worst month for developing-nation bonds in almost a year after a spike in U.S. Treasury yields sent fixed-income markets tumbling. But it hasn't derailed placements for now. While emerging-market sovereign and corporate sales fell 6.8% in February from the year earlier, they were still up 1.4% at $170.5 billion in the first two months.
Both UAE offerings should find buyers, according to Sergey Dergachev, senior portfolio manager for emerging-market debt at Union Investment in Frankfurt.
"Lower-rated sovereign and corporate credits tend to outperform due to their lower sensitivity to Treasury rates," which should support the Sharjah deal, he said. Meanwhile, Mubadala's sale will draw investors looking to pick up "quasi-Abu Dhabi sovereign risk," he said.