Bond Market's Safest Spot Beckons in $6.8 Billion Haven Rush
(Bloomberg) -- As market volatility goes through the roof, investors are ducking for cover in exchange-traded funds tracking short-term bonds.
BlackRock Inc.'s $18 billion iShares 1-3 Year Treasury Bond ETF, ticker SHY, attracted nearly $660 million on Monday, the fund's biggest one-day inflow since 2015, according to data compiled by Bloomberg. Roughly $6.8 billion has flowed into short-dated debt ETFs -- which feature bonds maturing in three years or less -- so far in 2020, while longer-term funds have drawn in $4 billion during the same period.
The demand is two-fold: A still-insatiable appetite for haven assets, while investors also try to shield their portfolios from unprecedented interest-rate risk. Anxiety over the coronavirus outbreak's economic impact sent 10- and 30-year Treasury yields to record lows. That drop has pushed duration -- a measure of sensitivity to rate changes -- to a record.
"The potential for quite sharp losses in fixed-income markets, especially at the back-end of the curve, is starting to rise," Alex Dryden, global market strategist at JPMorgan Asset Management, said in a Bloomberg Television interview Monday. "When they get this low, they typically take a while to get there, but they typically ping back quite sharply, like pulling on a spring."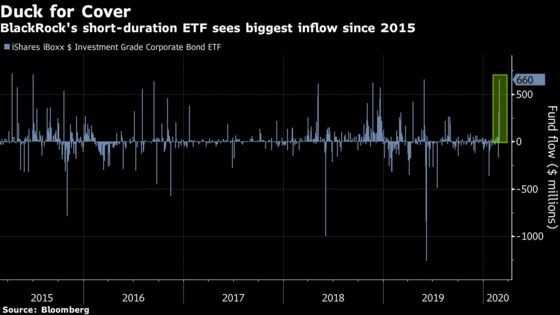 Yields on 2-year Treasuries plunged 20 basis points to 0.70% after the Federal Reserve delivered an emergency half-percentage point rate cut Tuesday, with Chairman Jerome Powell citing the outbreak's risks to the U.S. outlook.
Longer-dated bonds rallied to a lesser extent: benchmark 10-year yields dropped 17 basis points to under 1%, while 30-year rates fell 10 basis points to an all-time low of 1.62%.
The long-end's stretched valuations pushed duration in the Bloomberg Barclays Global Aggregate Treasuries Index to a record 8.6% as of Monday. That means that for every percentage point rise in average yields, investors would see a price decline of about 8.6%.
While the U.S. death toll rises and U.S. equities sink, the possibility of an unexpected spike in yields may seem remote. Still, ETF investors aren't taking chances. BlackRock's iShares 20+ Year Treasury Bond fund, ticker TLT, posted its largest weekly outflow in a month.
"TLT has more interest rate exposure, so it is susceptible to moves in rates," said Mohit Bajaj, director of ETFs for WallachBeth Capital. "When people park money in SHY and other short duration funds, it's a place holder until things settle back in."