Bond ETFs Snap a 3-Year Streak of Monthly Inflows
(Bloomberg) -- Whatever drove October's scary sell-off in the stock market seems to have also spooked buyers of fixed-income ETFs.
Last month, investors pulled $2.7 billion from exchange-traded funds that hold debt, the first month of net outflows in more than three years, according to data from State Street Corp.
"Fixed income ETFs had seen 38 straight months of inflows," said Matthew Bartolini, State Street's head of SPDR Americas research. "And that streak is over."
Investors are racing into short-term U.S. government debt ETFs this week to hedge against rising interest rates with stocks tumbling to the worst month in seven years. Equity investors turned their attention to the perceived safety of U.S. government debt, and fixed-income investors shortened the duration of their Treasury bets.
Despite the outflows from overall debt funds, ETFs focusing on government bonds took in $4.3 billion for the month, pushing the 2018 total to $29 billion, according to the data. The SPDR Bloomberg Barclays 1-3 Month T-Bill ETF, ticker BIL, saw more than $581 of inflows on Monday, the most since 2011. The fund has had eight straight days of inflows, with over $1 billion pouring in through Wednesday.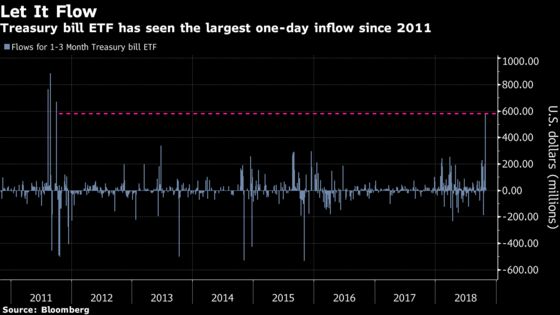 Much of the flows into government bond ETFs went to ultra-short and short-duration funds, which have taken in $23 billion this year. That's more than twice what they did in 2017 and around 78 percent of all government bond-related ETF flows in 2018, the data showed.
"They've essentially doubled their assets under management," Bartolini said. "It's an area where you can have exposure that hedges equity risk, take on no duration risk, and you get paid to do so."
High-yield ETFs had around $2.8 billion of outflows in October, pushing their year-to-date total to $6.3 billion.
October also was a record month for trading in U.S. fixed-income ETFs, with $245 billion of aggregate volume, according to a research note from BlackRock. "Fixed-income investors are increasingly utilizing bond ETFs to manage risk," BlackRock wrote in the note.