Bond Arrangers to Get Tough After Dodging 2018's High-Yield Duds
(Bloomberg) -- Banks are set to tighten standards when underwriting new European high-yield bonds as they learn lessons from a year that saw a wave of postponed deals.
At least 18 transactions totaling about 5 billion euros ($5.6 billion) were withdrawn from sale in 2018 as volatility disrupted pricing of new bonds. None of the pulled deals were underwritten by banks but arrangers of next year's issues will be keen not to risk exposure to more withdrawn transactions.
"People have had their fingers burned this year so there will be extra caution going into 2019," said Eden Riche, head of high yield and emerging market syndicate at ING Bank NV in London, who says he's already seeing pushback on pricing and deal timelines. "We expect underwriting standards to definitely get stricter next year."
Sales of bonds have dried up amid wider market volatility and a wave of risk-off sentiment, yet European high-yield issuance this year is set to total more than 60 billion euros across nearly 160 deals, data compiled by Bloomberg show.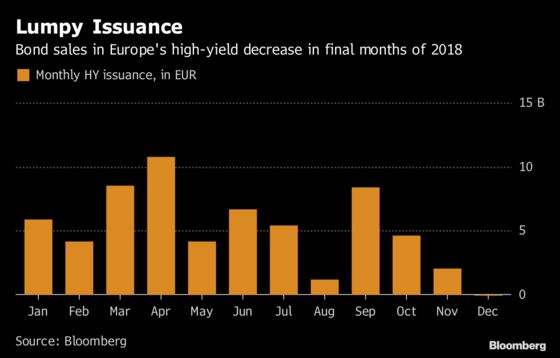 Next year, issuance may be roughly in line with 2018, analysts at Morgan Stanley have said, though dealflow may be dominated by debt to fund acquisitions, which is typically more sensitive to wider market volatility than refinancings.
Banks are now looking for greater flexibility when they underwrite deals, so as to make sure they are not committing funds at a price or with features that investors won't accept when later marketed.
For so-called "flex terms" when underwriting deals, the focus is on resetting the indicative cost of the debt and taking into account time to market, said Jane Bradshaw, head of high-yield capital markets at Morgan Stanley in London. "Regarding leverage multiples, the market is more focused on Ebitda adjustments, so issuers coming to market should be mindful of this."
While all of this year's underwritten deals found a price, some had to be sold at a discount. Some of the largest price changes were seen in the bonds sold by Cirsa Gaming Corporation SA, Algeco Scotsman Inc and Stada Arzneimittel AG.
Companies that withdraw deals can take a hit to their reputation, said Tom Ross, a portfolio manager at Janus Henderson Investors, who manages $2.8 billion of assets.
Ross says there are two categories of postponed deals: "those that could have issued at a wider yield or spread, but chose not to, and those that simply couldn't get a deal away." For companies that couldn't raise financing, such as Grupo Aldesa SA -- which tried and failed to raise 300 million euros in May -- the effect "is very negative", Ross said.
For deals such as TUI AG where the deal's postponement was based on price, Ross said he'd view that as a negative for the market rather than the borrower -- "it means their existing debt is trading too tight, but it wouldn't preclude us from investing in that company in the future."
Going into 2019, bankers will be keen to restart deal flow and will be watching closely for the first deals of the New Year.
BC Partners Sees Leveraged Buyout Volumes Thinning on Volatility
Despite the tougher markets, there's no change in appetite to deploy capital, said Kevin Foley, JPMorgan's head of loan and high-yield capital markets for EMEA.
Bankers will continue to be bullish in their approach to winning business amid the tougher market conditions, he said. "We will have to assess market conditions and changes will have to be factored in, but that's business as usual."