Bolsonaro, Like Trump, May Bring a Stock Rally and News Outburst
(Bloomberg) -- Jair Bolsonaro is likely to be Brazil's next president, and investors and financial executives in Sao Paulo say they expect at least two things to happen after votes are counted Oct. 28: The Ibovespa stock index will rally and the volume of news will surge.
Traders foresee something similar to what happened in the U.S. after Donald Trump's election on Nov. 8, 2016, which was followed by an almost 5 percent rally in the S&P 500 Index through the end of the year.
And all of a sudden paying attention to Twitter got more important as Trump blasted out posts criticizing Boeing Co. for cost overruns on government contracts, thanking Ford Motor Co. for keeping jobs in the U.S. and praising Russian President Vladimir Putin for not deporting U.S. diplomats.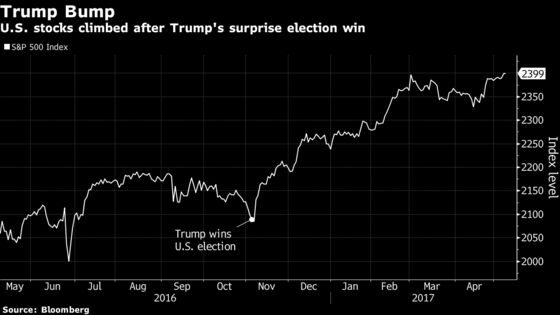 Bolsonaro seems to prefer Instagram, where he sends his 5 million followers photos of himself often accompanied by quotes about his plans for Brazil.
Since he took 46 percent of the vote in the first round of balloting Oct. 7, the Ibovespa has climbed 7.7 percent in dollar terms. It's surged 27 percent -- the world's best performance -- since voter polls in mid-September started showing Bolsonaro gaining support.