BOJ's Growing Tolerance for Stock Losses Seen in ETF Buying
(Bloomberg) -- The Bank of Japan's buying of exchange-traded funds has caught the attention of equity strategists.
The central bank's ETF purchases have fallen for the past two months, dropping in August to the lowest level in more than two years. It has also shown a higher tolerance for stock losses before stepping into the market. While it's clear the BOJ is adjusting the way market operations are conducted, it's not trying to taper monetary policy under investors' noses, analysts said.
"There's no doubt that the BOJ has changed its purchasing habits," said Shingo Ide, chief equity strategist at NLI Research Institute in Tokyo. "This isn't stealth tapering for normalizing policy. It's probably aimed at avoiding wasteful buying in order to make the ETF purchasing program sustainable."
The central bank tends to buy ETFs on days when the Topix declines during the a.m. session. On Aug. 15 and 16, it refrained from purchasing even though the benchmark slid about 0.4 percent during the mornings of both days. They were the steepest declines that weren't followed by BOJ buying since October 2016.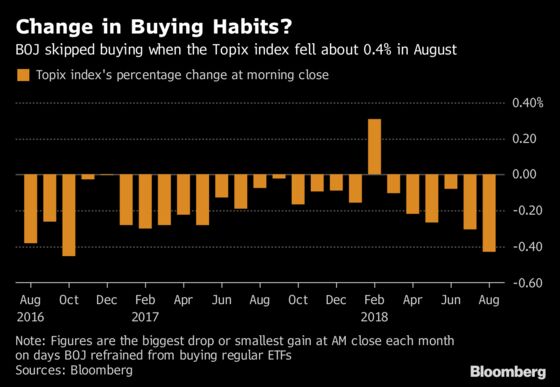 On Aug. 10 and 13, the only two days that the BOJ bought last month, the Topix slid 0.56 percent and 1.7 percent in the morning, respectively. In July, the bank bought on three days, when the gauge was down 0.39 percent or more. The Topix fell 0.7 percent at the 3 p.m. close in Tokyo on Thursday.
Nobuyuki Kashihara, chief global strategist at Asset Management One Co. in Tokyo, said the adjustment in operations makes sense given that it's hard for the BOJ to keep buying every time the Topix falls by a set degree.
"It's not a bad thing to allow the market to have more autonomous variability and leave room for investors to buy shares when the market is crushed by external factors," Kashihara said. "This isn't a policy exit. It's not a reduction in quantitative easing."
At the end of its two-day meeting on July 31, the BOJ maintained its annual pace of ETF purchases at about 6 trillion yen ($53.9 billion), including 300 billion yen to support investment in physical and human capital, while the bank also said it "may increase or decrease the amount of purchases depending on market conditions."
Excluding purchases related to capex support, the central bank bought 140.6 billion yen of ETFs in August. That was the lowest since the BOJ doubled the annual pace of its purchases to the current rate in July 2016 to help reach its 2 percent inflation target.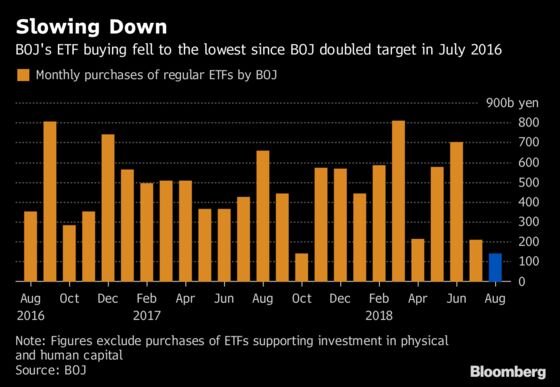 Not all analysts are convinced that the change in buying is purely technical.
Hisao Matsuura, a strategist at Nomura Securities Co. in Tokyo, said the BOJ may be reducing ETF purchases quietly and could eventually cut its annual buying target to about 4.5 trillion yen.
"The likelihood of stealth tapering is high," he said, adding that the central bank's massive stimulus can't last forever.
The BOJ owned an estimated 75 percent of the ETF market as of the end of July, up from 62 percent two years ago, according to Investment Trusts Association figures, BOJ disclosures and data compiled by Bloomberg.
Rather than a policy change, the BOJ may be slowing ETF purchases simply because it has already spent about 65 percent of its annual budget as of August, said Norihiro Fujito, chief investment strategist at Mitsubishi UFJ Morgan Stanley Securities Co. in Tokyo.
The central bank may also be saving policy ammunition to help deal with potential market turbulence from ongoing U.S.-China trade tensions and upcoming U.S. midterm elections, according to Fujito.
"There may be a possibility that the BOJ will skip buying ETFs again when the the market falls about 0.4 percent, but it's misleading to say this is stealth tapering," he said. "It could just be saving money for a rainy day."