BOJ's Record Stock Gains Add Pressure for Flexibility on ETFs
(Bloomberg) -- Trillions of yen worth of unrealized gains in just the last few weeks are likely to add pressure on the Bank of Japan to rethink how it buys Japanese stock funds at a policy review next month.

Paper gains on the BOJ's holdings of exchange-traded funds hit a record of 15.8 trillion yen ($149 billion) this week as the Nikkei 225 Stock Average climbed to a three decade high, according to calculations by Shingo Ide, an expert on the purchases at NLI Research Institute.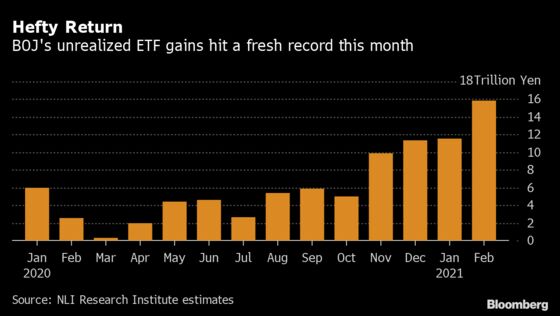 The bank doesn't offer frequent updates on the performance of its fund holdings, but just three weeks ago governor Haruhiko Kuroda told parliament that gains had reached approximately 13 trillion yen.
The size and speed of the gains since then underscore just how big the BOJ's position has become as the largest single holder of Japanese stocks. They're also likely to add pressure on the bank to adopt a more flexible approach in buying the assets, according to Ide.

"The BOJ is probably getting uncomfortable with buying the ETFs," said Ide, who is chief equity strategist at NLI. "They are likely to send a calibrated message for more flexibility at the review."
Critics of the bank's ETF buying say it's needlessly propping up stock prices and slowing down improvements in corporate governance. Kuroda defends the policy as a needed part of the bank's efforts to meet its distant inflation target.