Abe, Kuroda Pledge Joint Japan Action to Keep Businesses Afloat
(Bloomberg) -- Japan's government and its central bank issued a rare joint statement Friday, vowing to cooperate further on aggressive measures to fund struggling companies and support a battered economy.
On a day when inflation fell below zero for the first time in more than three years, Prime Minister Shinzo Abe's administration and the Bank of Japan focused on battling the economic impact of the coronavirus while putting the risk of deflation on the back burner for now.
First the BOJ unveiled an additional 30 trillion yen ($279 billion) of loan support for small businesses at an emergency meeting that makes its package of virus measures roughly equivalent to the annual lending of one of the nation's three mega banks.
Then came the joint statement pledging BOJ cooperation with the government after a meeting between Governor Haruhiko Kuroda and Finance Minister Taro Aso.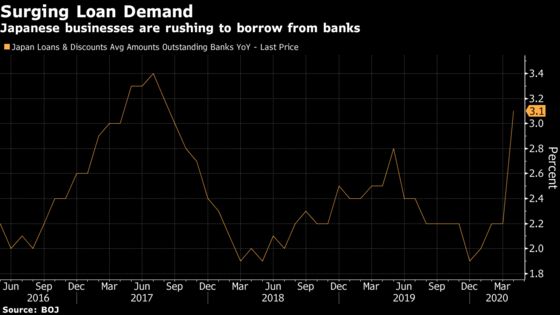 "The Bank of Japan and the government must send the message to the world that we are coming together as one," said Aso. Central banks and governments in some countries simply weren't on the same page and needed a reminder of the benefits of joint action, he added.
"Even if Japan manages to escape this predicament by itself, it'll still suffer if other nations can't, and exports and inbound tourism can't grow," Aso said.
The vow to take any action needed in support of the economy, corporate financing and market stabilization highlights the needs of a world changed by Covid-19. A previous joint statement in 2013 had focused on action to escape deflation.
Kuroda said the BOJ would continue to collaborate with the government and emphasized the significance of the new lending program.
Combined with an earlier lending facility and its buying of corporate bonds and commercial paper, the BOJ said its coronavirus response measures now total 75 trillion yen. By comparison, the overall size of the government's record stimulus package in response to the pandemic is 117 trillion yen.
"They are certainly trying to avoid the stigma of doing 'too little, too late' because that led to the yen strengthening after the global financial crisis," said Masamichi Adachi, chief Japan economist at UBS Securities, referring to the BOJ's package of programs.
The latest lending program, due to run through March next year, won't offer direct assistance to businesses like the Fed's Main Street Lending Program. Instead, it will funnel money to companies via commercial banks and other financial institutions.
The facility will encourage lending to companies by providing free loans to financial institutions and then paying them 0.1% interest on the amount they in turn lend out.
The combination of BOJ support programs is big enough to have an impact on the economy, said Shunsuke Oshida, head of credit research at Manulife Asset Management, comparing it in size to one of Japan's big three banks. 
"Mizuho's total lending is about 85 trillion yen, so with BOJ programs worth a total 75 trillion yen it seems Japan now has another mega bank," Oshida said.
The program's financial incentive for banks to lend will likely work positively over the short term for the economy because there are companies needing cash, said Ryoji Yoshizawa, senior director at S&P Global Ratings.
"But there are negative elements as well as positive ones. If you help companies that have little prospect of surviving stay afloat, their existence might end up undermining firms that have worked hard to stay competitive," he added.
What Bloomberg's Economist Says
"The Bank of Japan is moving swiftly to deliver more financial support for Japan's hard-hit small companies, with a new 30 trillion yen loan program. If extended by commerical banks as intended, it would be a large dose -- equal to 185% of total new loans extended in April."

--Yuki Masujima, economist

Click here to read more