BOJ Likely Looking to Show Rate Cut Option Is Live, Momma Says
(Bloomberg) -- The Bank of Japan will probably signal its readiness to lower its negative interest rate by pledging to mitigate any harmful impact such a move would have at a review next month, according to a former BOJ official in charge of monetary policy.
"The BOJ likely wants to restore a rate cut as a viable option," Kazuo Momma said in an interview Thursday. "They can show it's viable by indicating any reduction of rates would be accompanied by measures to address its side effects."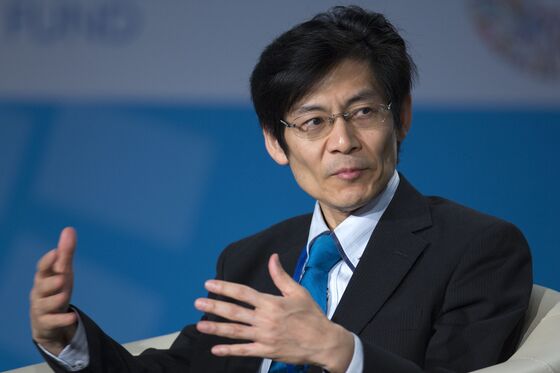 Almost no one currently believes the BOJ can lower the -0.1% policy rate because the profitability of private banks has been squeezed by prolonged monetary easing, said Momma, who left the central bank in 2016. Setting out measures to address the side effects of a rate cut could change that perception, he said.
The comments come amid speculation over what measures the central bank will take at a policy review on March 18-19. While Governor Haruhiko Kuroda has said the bank's yield curve control framework is working well and won't be overhauled, the calling of a review suggests tweaks are in the pipeline.
Kuroda has said the assessment will look to improve the effectiveness of stimulus over the longer term and to make it more nimble.
Momma said the need for greater nimbleness likely refers to the BOJ's ability to lower rates so it can move quickly in a crisis or if the yen excessively strengthens.
The BOJ may only pledge to counter the cost of lower rates at the review, but if it gives specific measures one possibility would be to increase the size of commercial banks' reserves that get paid 0.1% interest by the BOJ, Momma said.
The central bank operates a three-tier system that pays interest on around 210 trillion yen ($2 trillion) of reserves, while imposing its negative rate on a much thinner sliver of the remaining cash.
"It's the BOJ's last card," Momma said of a rate cut. "It's worth making it appear very powerful before playing it."
Momma also said:
As stimulus will stay in place for years to come, the BOJ must make its buying of exchange-traded funds more flexible and that's probably the main motive for the review
"It's not healthy at all for a central bank to become the biggest shareholder of a nation," Momma said. "A central bank shouldn't be buying stocks for a prolonged period in the first place."
To avoid leaving the impression of less aggressive easing, the BOJ is likely to emphasize it remains ready to actively buy ETFs in its policy statement rather than spelling out the details of a more flexible approach
For greater flexibility, the BOJ could scrap its annual target of 6 trillion yen while keeping a ceiling of 12 trillion yen