BOJ Leaves Stimulus Unchanged, Cuts Inflation Outlook Again
(Bloomberg) -- The Bank of Japan left monetary policy unchanged as it cut its inflation outlook once again, underscoring how far away its price target is and how few options the central bank has for drawing closer.
The BOJ maintained its yield curve-control program and asset purchases, it said in a statement Wednesday, a result predicted by all but one of 50 economists surveyed by Bloomberg. The bank lowered its inflation forecast for a fourth consecutive time in its quarterly outlook report.
With the European Central Bank meeting on Thursday and the Federal Reserve next week, the gap between the BOJ and its global peers keeps widening. While the Fed may hit pause soon, both it and ECB are seeking to return to pre-crisis policies, giving them more room to respond to another shock or downturn.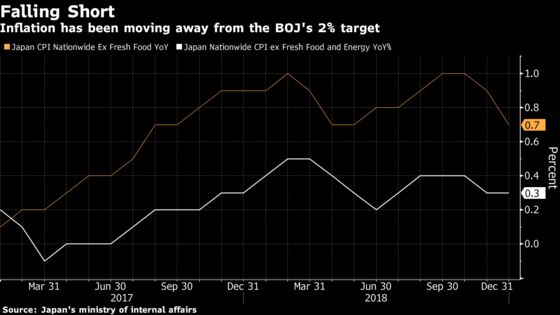 The BOJ's inaction even as it cut its inflation forecasts was "strong proof" that it has few tools left at its disposal, said Shinichiro Kobayashi, senior economist at Mitsubishi UFJ Research and Consulting. He noted that the central bank had previously taken preemptive action when inflation had been deemed at risk.
In its outlook report, the BOJ cut its inflation forecast for the fiscal year starting in April to 0.9 percent from 1.4 percent, citing lower oil prices as the primary reason.
But the BOJ's inflation forecasts didn't include the effects of expected cuts to cell phone fees or a government initiative to provide free education for young children. The central bank said the education policy alone would cut another 0.3 percentage point from core inflation in fiscal 2019 and 0.4 percentage point the next year -- effectively bringing its forecasts to 0.6 percent and 1.0 percent, respectively.
A downgrade to 0.6 percent in fiscal 2019 would have been the biggest since Governor Haruhiko Kuroda took over the BOJ in 2013.
Speaking at a media round-table at the World Economic Forum in Davos, Switzerland, Prime Minister Shinzo Abe said that while inflation was still running below target, he was "fully convinced" by Kuroda's explanation earlier on Wednesday. "I sincerely hope policy measures will be carried out" so Japan can meet the 2-percent goal, he said.
| | | | | |
| --- | --- | --- | --- | --- |
| | New CPI Forecast | Previous CPI | New GDP | Previous GDP |
| Fiscal 2018 | 0.8% | 0.9% | 0.9% | 1.4% |
| Fiscal 2019 | 0.9% | 1.4% | 0.9% | 0.8% |
| Fiscal 2020 | 1.4% | 1.5% | 1.0% | 0.8% |
Japan's core inflation slipped to 0.7 percent in December. Many economists expect that figure to fall below zero sometime this year. Yet after six years of extreme stimulus, few economists surveyed by Bloomberg expect any more to come, judging the BOJ's bias to be toward normalizing policy eventually.
On Wednesday, the BOJ again stated that momentum toward its 2 percent inflation target is intact, though not yet sufficiently firm.
As the global elite gathered in Davos, Switzerland, Kuroda said overseas risks are on the rise and the BOJ must pay close attention to how they affect sentiment among businesses and households in Japan. Yet his main view of the outlook hasn't changed, he said, and Japan's broad balance of supply and demand would push inflation higher.
The BOJ slightly raised its growth forecasts for the next two years, just days after the International Monetary Fund said it sees the Japanese economy growing faster than previously expected, citing additional fiscal support.
What Our Economist Says...
"Beyond the lower inflation outlook through fiscal 2020, the BOJ flagged concern about the potential for external risks to weigh on household and corporate confidence -- another reason to sustain monetary support," Bloomberg Economics' Yuki Masujima wrote. "At the same time, though, accumulating financial imbalances mean it will have to be mindful of the risks from its extreme easing."  

To see more, read our JAPAN REACT
Yet the BOJ has plenty to worry about. In addition to a sales-tax increase scheduled for October, an escalation of the U.S.-China trade war, a "hard" Brexit and a deeper slowdown in China could all take a big toll on Japan's export-dependent economy. Data released earlier Wednesday showed that Japan's exports fell for a second time in four months in December. Shipments to China slid 7 percent.
"If the China-U.S. economic friction, trade friction becomes prolonged, it's clear that we will see the impact from that," Kuroda said. "I sincerely hope that they'll get this resolved quickly."
The question is whether the BOJ has the tools to respond to a shock or even a mere recession. Kuroda said the BOJ has plenty of unconventional policy measures left to choose from. "Our policy options have neither disappeared nor narrowed," he said.