BOJ Decision-Day Guide: All Talk, No Action Expected of Kuroda
(Bloomberg) -- While few are expecting action, many investors will be seeking answers at the end of the Bank of Japan's two-day policy meeting.
All 51 economists surveyed by Bloomberg said they expect the BOJ to keep policy unchanged on Wednesday, after the central bank made its first significant adjustments in nearly two years at its last meeting in July.
The focus on Japan's central bank comes just a week before the Federal Reserve is expected to raise interest rates again, and about a week after the European Central Bank said it expected to phase out its bond-buying by the end of the year. The meetings highlight how the BOJ is falling further behind its peers, with inflation in Japan only about halfway to its 2 percent goal.
Governor Haruhiko Kuroda is expected to face plenty of follow-up questions about July's changes. The changes left plenty to talk about, not least because the central bank sent contradictory messages about whether it had actually strengthened its commitment to stimulus over the longer haul or pulled back just a tiny bit.
The BOJ said it intended to carry on as long as necessary, pledging in "forward guidance" to keep interest rates at extremely low levels for "an extended period." Yet on the whole its moves looked like "stealth tapering" and weren't enough to ensure sustainability of its stimulus program, according to economists surveyed by Bloomberg.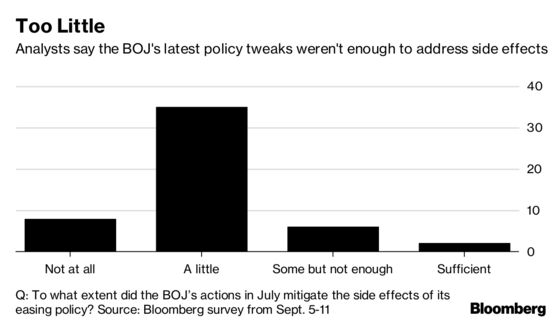 "Opinions are divided in the market concerning how to interpret forward guidance and gauge the side-effects of ultra-low interest rates, and they are also divided within the BOJ policy board, especially with regard to the latter," Naohiko Baba, chief Japan economist at Goldman Sachs, wrote in a report last week.
The BOJ's policy statement is usually published around noon local time, followed by Kuroda's press briefing at 3:30 p.m.
It's almost certain that Kuroda will be asked during his news conference to further explain the recent moves and how the BOJ intends to keep going with stimulus while addressing side effects, including the impact on bank profitability and distortion of the government bond and equities markets.
Kuroda will likely describe the recent steps as successful. In addition to the forward guidance, the BOJ decided to let the yield on 10-year government bonds trade in a wider range, cut the amount of bank reserves subject to its negative interest rate and said it would buy exchange-traded funds with more flexibility, depending on market conditions.
What Our Economist Says
"We expect Governor Haruhiko Kuroda to avoid making any comments that would spur speculation of a near-term exit (which could trigger a damaging surge in the yen and rise in long-term yields). That said, he could signal readiness to be flexible on ETF purchases or yield-curve targets down the road."

--Yuki Masujima, Bloomberg Economics
Details will be sought on the BOJ's ETF buying. The central bank ended up buying the least amount of ETFs in August since it raised its annual target to 6 trillion yen ($54 billion) in 2016. Some analysts have said the BOJ may have started a de facto tapering of its stock buying program, much as it has done with its bond buying.
In contrast to its bond purchases, though, many officials at the bank think the board will need to lower the official ETF buying target if its purchases fall well below that level, according to people familiar with the matter.
Also in focus will be Kuroda's views of risks to the economy, including possible hits to production and consumer spending from natural disasters in Japan, as well as an ever-escalating trade fight between the U.S. and China and the impact of the Fed's interest rate hikes on global markets.
Japan's gross domestic product grew a stronger-than-expected 3 percent on an annualized basis during the second quarter, thanks to strong expansion in business investment. But growth was expected to slow as global demand cooled, even before U.S. President Donald Trump once again ratcheted up the trade fight with China this week.
Key elements of the BOJ's yield-curve control policy:
BOJ pledges to keep interest rates extremely low for an extended period of time.
Interest rate of minus 0.1 percent charged on some of the reserves financial institutions keep at the BOJ.
Yield target of about 0 percent for 10-year Japanese government bonds, while allowing a trading range of 0.2 percent either side of the mark.
Increase JGB holdings by about 80 trillion yen a year. (Actual purchases have dropped to little more than half this.)
Increase holdings of exchange-traded funds by 6 trillion yen a year.