BofA Sees U.S. Dollar Extending Rally on Inflation-Fighting Fed
(Bloomberg) -- Bank of America Corp. says an inflation-fighting Federal Reserve could be a boon to the U.S. dollar. 
As consumer prices increase by the fastest clip in three decades, the central bank may need to acknowledge that a significant part of the surge reflects an overheating economy, strategist Athanasios Vamvakidis wrote in a note Tuesday. 
Such a turn could push the dollar higher against major counterparts such as the euro and the yen, the strategist said, as higher rates draw in funds from abroad. On Tuesday, St. Louis Fed President James Bullard endorsed a more aggressive approach to monetary policy, saying he thinks the bank should go in a "more hawkish direction."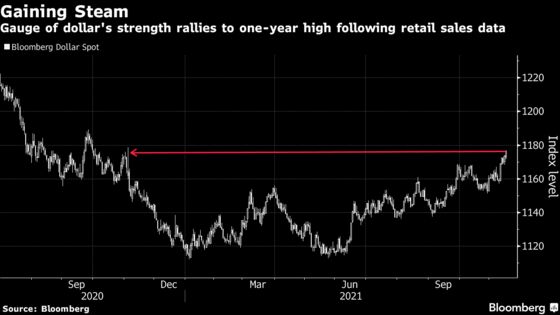 "They have just announced QE tapering, after taking their time to prepare markets for it to avoid the tapering tantrum of 2013," Bank of America's Vamvakidis wrote. 
"However, with inflation so high and the market already pricing two hikes for next year, compared with only half in the DOTS, we don't believe they can afford to wait for long this time," he wrote, referring to the divergence between market pricing and the Fed's dot plot.
A measure of the dollar's strength on Tuesday hit the highest since early November 2020, rising about 0.3% on the day and gaining against most of its developed market peers. The move was bolstered by better-than-expected reports on retail sales and factory output that also pushed the S&P 500 toward a record high. 
The currency has gained as traders move forward bets on when the Fed will first hike interest rates, which has caused 5-year Treasury yields to nearly double since early August to around 1.25%.
The long-dollar bet is becoming an increasingly popular play in the FX world, as even past bears like Alessio de Longis, senior portfolio manager at Invesco Investment Solutions, expect the greenback to outperform peers. De Longis said he moved to an overweight position on the dollar versus the euro, the pound, and the yen in October.
"We find that a powerful driver of the dollar is how economic data surprises are printing, especially outside the U.S.," he said.