BofA Says Modified Value-Investing Approach Can Still Outperform
(Bloomberg) -- Value investing has a checkered history over recent years but Bank of America Corp. strategists argue it can be modified and resurrected.
The investing style outperformed growth through much of the 20th Century until the global financial crisis hit, the strategists wrote in a note. After that, it fell behind: the Russell 1000 Growth Index is up 247% since the end of 2010, while its value counterpart has advanced just 75%.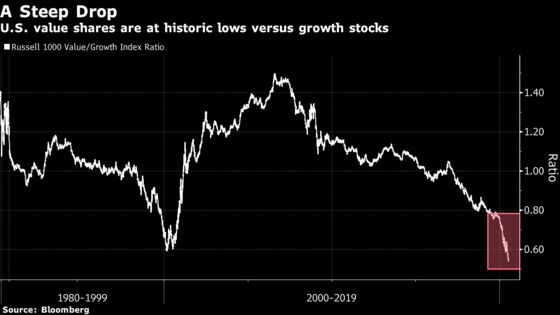 Yet, avoiding value traps and adopting a "quality plus value" approach would have led to continued outperformance after the financial crisis, BofA strategists led by Savita Subramanian wrote in a note July 13.
Avoiding industries that look inexpensive because prices are declining faster than the pace of earnings downgrades would have saved investors 4 percentage points a year in performance since 1997, the strategists said. Adding a quality overlay -- high return on equity -- to a value screen enhanced returns by 1.2 percentage points, they said.
BofA said its "quality meets value" screen turned up names like Intel Corp., Verizon Communications Inc., Coca-Cola Co. and United Parcel Service Inc.