BofA Says a 'Real' Trade Deal Could Vault S&P 500 to Record High
(Bloomberg) -- With stocks rallying this year amid signs of nascent progress in China-U.S. trade talks, investors may be inclined to conclude that there is not much upside left when a deal is reached. That's wrong, warned Bank of America.
The firm's model on corporate earnings and equity valuations suggests that the market has priced in "a partial deal," one where only some of the issues get resolved in favor of corporate America, according to strategists led by Savita Subramanian. In a best-case scenario, the S&P 500 could climb 5 percent to 10 percent when a "real deal" is struck. That would take the index to as high as 3,020 from the latest close, a level that exceeds the September all-time high of 2,930.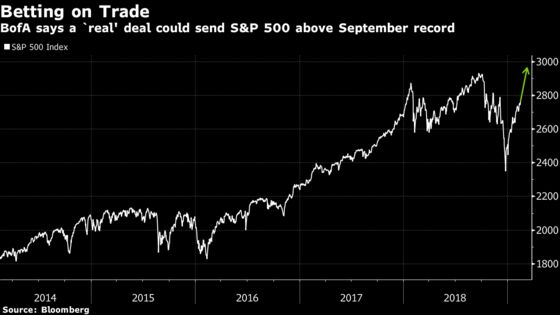 Companies from 3M Co. to Stanley Black & Decker Inc. have slashed their guidance this year, citing either trade tensions or weakening demand in China. While both China and the U.S. have expressed optimism over the progress during the negotiations this week, BofA pointed to a shrinking price-earnings multiple since tariff talks began last February as a sign of lingering fears over trade.
A good deal would mean a brighter outlook for companies and the market, the strategists said, adding that a reversal of 2018 tariffs alone would add 1 percentage point to the annual profit growth rate for S&P 500 companies.
"The indirect benefits to EPS from better growth, unleashed pent-up spending, etc. would likely be significant as well," Subramanian wrote in a note Friday. The firm's economists expected a trade deal to be reached in the first half.
On the flip side, a full-blown trade war would spark a sell-off of as much as 10 percent in the S&P 500, BofA's estimates showed.
Below are three scenarios that the firm laid out on trade development and its impact on the stock market.
"Real deal": U.S. removes tariffs imposed in 2018, China commits to more imports, intellectual property right protection and enforcement measures in place, and full access to China markets by U.S. firms; S&P 500 could rally 5-10% to new highs
"Partial deal": U.S. maintains 2018 imports, periodic review of agreed terms, China commits to more imports, some IP right protection plan, partial access to Chinese market; S&P 500 would be flat or suffer a "sell the news" reaction before stabilizing
'Full-blown trade war": U.S. hikes tariffs on $200 billion of goods to 25% from 10%, China retaliates; S&P 500 would erase most, if not all of its 2019 gains