Asia's Riskiest Stocks May See Dramatic Rotation, BofA Quants Say
(Bloomberg) -- The stocks which combine the greatest sensitivity to market movements with the highest volatility in earnings and price are poised for a massive rebound in the next rally, according to Bank of America.
The risk style factor, which is heavily weighted to materials, industrials and consumer discretionary stocks, was the best performer in Asia Pacific ex-Japan during April and outperformed the wider index by 3.8 percentage points, strategists including Nigel Tupper wrote in a research note May 7. It still has a long way to catch up, though.
"Risk is trading at the largest valuation discount to quality in two decades," the note said. "The significant valuation spread has the potential to magnify the rotation from quality to risk during the next upturn." And the change "could be dramatic," they added.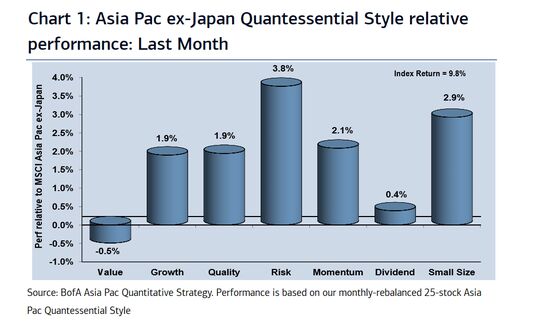 Quantitative investing splits markets into buckets of style factors representing different characteristics, such as earnings growth or valuation, in the hope of beating the wider market. Some portfolios running this type of systematic strategy fared no better than stock-pickers during the market sell-off in March.
If a rebound in stocks is accompanied by rising bond yields, it could also lift the region's underperforming value shares, BofA's strategists added.
"In Asia, value has a high beta and is also positively sensitive to bond yields, so could perform better when improving earnings drive markets higher, and bond yields start trending higher," the note said.