BofA Expects Short-Lived Emerging-Market Rally in a Few Months
(Bloomberg) -- Bank of America Merrill Lynch has a simple message for emerging-market bulls: See you in September.
Stocks, bonds and currencies from developing nations are heading for their worst quarter since 2015 as the dollar's rebound and rising U.S. interest rates trigger a selloff in riskier assets. While the tumble may be starting to attract buyers, the bank's strategists say assets won't hit bottom until the end of the upper hemisphere's summer. Relief may come once the euro-dollar rate drops to a floor of 1.12, from 1.17 now, in the third quarter.
"At the mid-year signpost we keep the cautious view of our year ahead," strategists led by London-based David Hauner wrote in a report. "Positioning has been cut a lot, but has not capitulated".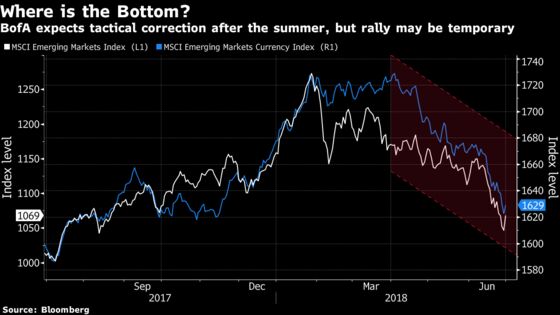 Still, BofA says any rally is likely to be "tactical" -- meaning it would be based purely on prices, not fundamentals. Contrary to the consensus, the strategists say they're concerned that growth and current accounts in developing nations may deteriorate as the dollar keeps strengthening. In addition, China's economy may slow further before the government decides to provide more stimulus.
"The strong USD in itself weakens fundamentals through tighter financial conditions, which then affect growth," the strategists wrote. "So often, capital flows are the cause rather than the effect of good fundamentals in EM."
BofA says any rebound will be temporary as investors return to a cautious mode given concern about an inverting U.S. yield curve in 2019. They have a particularly negative view for the yuan and oil, the "last shoes to drop," the strategists wrote.
The bank says it still favors emerging-market bonds, although they aren't particularly cheap. Long-term debt investors, the strategists say, haven't sold developing-nation bonds due to the recent volatility, limiting the scope for marginal buying. The absence of compelling investment alternatives, however, makes it worth holding bonds at the current level, with dollar notes yielding about 6 percent and local debt around 8 percent.