BofA Clients With $614 Billion Hike Risk-Taking to New Records
(Bloomberg) -- Bank of America Corp. clients with $614 billion combined are in the throes of an unprecedented frenzy of risk-taking, as more Wall Street banks sound the alarm on greed across markets.
After a week which recorded the strongest-ever inflow into stocks, a record net 25% of investors surveyed by the investment bank this month are taking higher-than-normal risks. Cash levels slumped to the lowest since 2013, while optimism on cyclical risk assets rose to the highest since 2011.
All this is being fueled by unprecedented optimism on the growth outlook, with 84% of fund managers expecting global corporate profits to improve over the next 12 months. For the first time in a year, investors say companies should focus on spending rather than improving their balance sheets.
As a JPMorgan Chase & Co. gauge of cross-asset complacency, including valuations, positioning and price momentum, hits the highest in two decades, BofA clients aren't concerned about market exuberance. Just 13% say that U.S. stocks are in a bubble, while 53% see a late-stage bull market.
With a bond "tantrum" dubbed the second tail risk after the vaccine rollout, bond allocations dropped 3 percentage points to a 62% underweight -- the lowest since March 2018.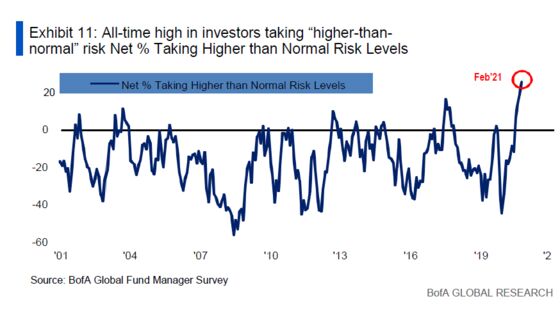 Nearly a year after the Covid-19 crisis fueled an unprecedented rout in global markets, stimulus measures and vaccination efforts are pushing investors into reflation trades of all stripes. But after a record flood of money into equity funds, BofA strategists have warned that such exuberance may precede a correction.
Other highlights of the Feb. 5 to 11 survey:
Cyclical rotation paused in February, with investors boosting equity exposure to tech,

healthcare

and consumer staples versus January
Exposure to commodities and equities is at decade-highs
Long tech stocks retook its top spot as the world's most-crowded trade, followed by long Bitcoin, short U.S. dollar and long ESG
Allocation to U.S. stocks increased 5 percentage points to net 9% overweight
Exposure to euro-area stocks dropped 9 points to net 20% overweight
Allocation to EM equities dropped 5 points to net 57% overweight, remaining the most-preferred region
Exposure to U.K. equities increased 5 points to 10% underweight, remaining the top regional underweight