Boeing 3Q May Beat, But Can It Stop the Industrials Sell-Off?
(Bloomberg) -- Boeing Co. has beat analysts' profit estimates for nine straight quarters, and expectations for the latest third-quarter results, due tomorrow pre-market, have been rising steadily. But will a strong showing from the aircraft-maker manage to stem the sharp slide in industrials stocks so far this earnings season?
Shares of the company have gained more than 18 percent this year, while the S&P 500 Index has risen 2 percent and the S&P 500 Industrials Sector Index is down 5.9 percent. JPMorgan's Seth Seifman attributed the outperformance "mainly to confident messaging from management."
While Boeing investors had taken a hit earlier this year when the stock was treated as a proxy for trade-related uncertainties, Seifman said China is not at the forefront of investor concerns. "Despite continued deterioration in the U.S.-China relationship, the market seems quite comfortable with the base case here, which is that China needs Boeing aircraft and we are therefore unlikely to see a major shift in Boeing aircraft demand from China," Seifman wrote in a note.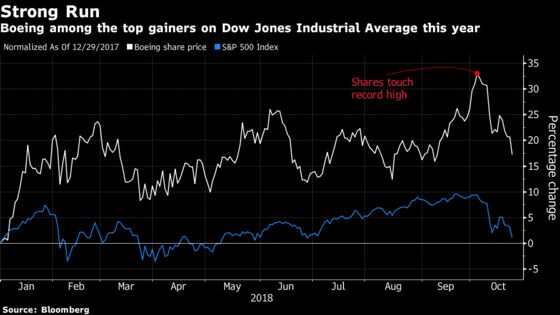 Here are the top factors to watch when Boeing reports third-quarter results Wednesday before the market open. Shares of the company dropped as much as 3.7 percent in trading on Tuesday, amid a broader rout in industrials stocks.
Boeing is expected to report third-quarter earnings above the prior-year quarter, even as revenue is expected to lag. Analysts on an average expect earnings of $3.47, over revenue of $23.91 billion.
Buckingham Research analyst Richard Safran said consensus estimates for Boeing's commercial aircraft and defense, space & security segments could be too high, noting that the company delivered 190 aircraft during the quarter, compared to 202 in the year-ago period.
Separately, Cowen's Cai von Rumohr also noted that deliveries during the latest quarter slightly lagged the second quarter despite a very solid September.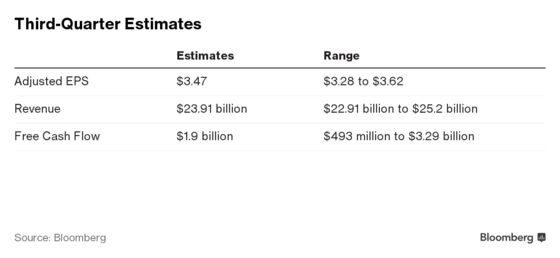 All eyes will be on Boeing's 2018 delivery outlook of 810-815 aircraft. Any update to this number may dominate the stock movement during the day. Buckingham's Safran expects the company to maintain the delivery and sales guidance, and raise its earnings outlook on improved margin expectations for the fourth quarter.
"Aircraft demand remains stable per the 7+ year backlog and strong airline operating profits, though supplier disruption is worth monitoring," Morgan Stanley analyst Rajeev Lalwani wrote in a note, adding that the 2018 outlook should remain given a shift in demand to the fourth quarter, due to delays.
Cash flow continues to be one of the top metrics watched by Boeing investors.
"Cash flow is more important than EPS and should be driven primarily by 737MAX and 787 rate increases, with continued 787 unit margin improvements," Bernstein analyst Douglas Harned wrote in a note. Analysts on an average expect third-quarter free cash flow of around $1.9 billion, according to Bloomberg data.
Cowen's Rumohr, who expects Boeing cash flow to keep growing until at least 2021, said that with supplier issues on the mend, "the case for extended cash flow to $33+/share in 2021 is intact."
3Q core EPS estimate $3.47 (range $3.28 to $3.62)
3Q revenue estimate $23.91 billion (range $22.91 billion to $25.20 billion)
FY core EPS estimate $14.65 (range $13.90 to $15.01); forecast on July 25 of $14.30 to $14.50
FY revenue estimate $98.47 billion (range $96.71 billion to $99.35 billion); forecast of $97 billion to $99 billion
BA 20 buys, 9 holds, 0 sells; avg PT $414: Bloomberg data
Implied 1-day share move following earnings: 4.3%
Shares rose after 8 of prior 12 earnings announcements
Adjusted EPS beat estimates in 11 of past 12 quarters
Earnings release Oct. 24 before market open
Call 10:30am, 800-230-1096 password: Boeing