BlackRock's Brazil ETF Gets a Spike in Volume Ahead of Election
(Bloomberg) -- The largest exchange-traded fund tracking Brazilian equities is seeing heavy volume Wednesday as investors responded enthusiastically to the rising odds that a far-right candidate will win the presidential election this month.
The $6 billion iShares MSCI Brazil ETF, or EWZ, has gained 10 percent this week. More than 52 million shares of the fund worth over $1.9 billion had traded through 1:15 p.m. Wednesday, following the 53 million shares worth $1.9 billion that moved on Tuesday, which was the largest turnover since June.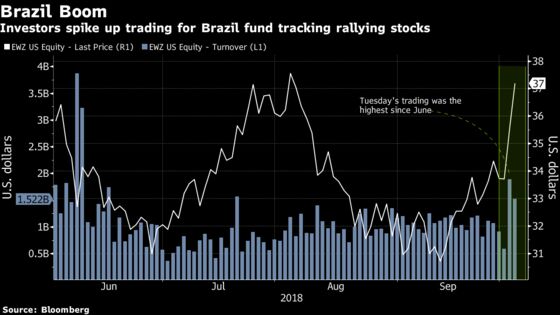 Brazilian markets have been rallying over the past two sessions on the increased chances of former Army captain Jair Bolsonaro becoming the country's next president. According to an opinion poll released Tuesday, Bolsonaro would get 44 percent of votes in a runoff against left-wing Workers' Party candidate Fernando Haddad. Bolsonaro has pledged market friendly solutions like selling off state companies if he wins.
The first election round will take place on Sunday, Oct. 7. If needed, a second round would occur on Oct. 28.