BlackRock Is the Winner and Loser in This Bond ETF Fee Fight
(Bloomberg) -- The fee fight continues in ETF land. But now it's happening within fund firms themselves.
BlackRock Inc.'s $2.2 billion iShares Broad USD Investment Grade Corporate Bond ETF, or USIG, took in a record $624 million on Tuesday. It appears that one buyer executed four massive block trades in the exchange-traded fund, the largest being 5 million shares worth $267.5 million, according to Bloomberg data.
Meanwhile, also on Monday, BlackRock's $34 billion iShares iBoxx Investment Grade Corporate Bond ETF, or LQD, saw outflows of more than $675 million, followed by another reduction of nearly $320 million on Tuesday. Investors have pulled $3.1 billion from the fund this year.
USIG is the far cheaper ETF, carrying a fee of $6 for every $1,000 invested compared with $15 charged by LQD. Tuesday's flows into USIG helped its market capitalization balloon by more than 40 percent overnight.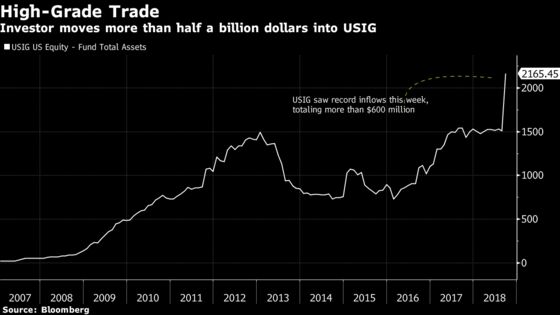 "It's someone who likely has to maintain the allocation and is just shifting to the cheaper option," said Athanasios Psarofagis, an analyst with Bloomberg Intelligence. "It's not uncommon to see this shift for some of the iShares core ETFs."
USIG is down 4.3 percent this year, while LQD has lost 5.4 percent. Both funds track indexes comprised of investment-grade corporate bonds, but their exposures are different. LQD has a bigger position in U.S. debt, particularly banks, while USIG has larger holdings in notes issued by oil and gas producers. Overall, investment-grade corporate bonds have lost about 2.3 percent in 2018.