BlackRock Flows Disappoint Amid Institutional Investor Fears
(Bloomberg) -- BlackRock Inc. the world's largest money manager, saw its net flows soften in the third quarter, as nervous investors yanked money from its products.
Long-term net inflows of $10.6 billion in the quarter were the lowest since 2016, a result Chief Executive Officer Larry Fink called disappointing on Tuesday. Institutions withdrew $24.8 billion from BlackRock's index and active products in the period.
"We're not particularly happy," Fink said in a phone interview. He highlighted that investors are trying to shed riskier positions amid geopolitical uncertainty.
"They don't understand the political instabilities," he said. "They're worried about the impact of global trade. A common conversation we're hearing from clients is: are we at peak earnings?"
BlackRock shares slid about 2.9 percent to $414.42 at 11:51 a.m. in New York trading.
The outflows from institutions were offset by BlackRock's iShares exchanged-traded fund business, which saw net inflows of $33.7 billion in the period. The firm is the largest issuer of ETFs globally, with its iShares business accounting for about one-third of its $6.4 trillion total assets under management.
Craig Siegenthaler, an analyst for Credit Suisse, said that BlackRock's long-term net flows and revenue in the quarter fell short of his estimates, attributing the weakness in a note to clients to "industry-wide de-risking."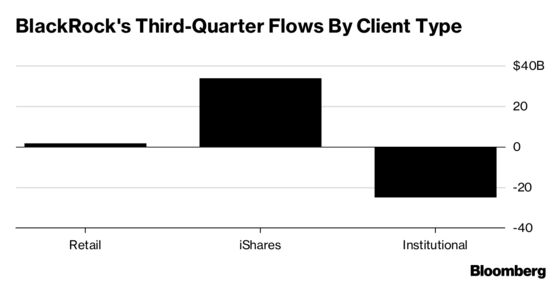 Overall the firm's revenue increased 2 percent compared with the same period last year. Its technology unit posted strong gains of 18 percent. Fink has said he hopes technology will power 30 percent of the firm's revenue by 2022.
The New York-based company reported adjusted earnings per share of $7.52 for the quarter, beating estimates of $6.84 per share, according to analysts surveyed by Bloomberg.
Kyle Sanders, an analyst for Edward Jones, attributed BlackRock's earnings beat to "one-off items," including a lower tax rate, share repurchases and a large performance fee earned from a hedge fund mandate.
"There's a lot of anxiety," he said of the institutional outflows. "I think it paints a negative flow outlook for the rest of the industry this quarter."