Black-Swan Hedges Are the Cheapest Since 2016 
(Bloomberg) -- The cost of hedging against tail risks in U.S. stocks has plummeted, suggesting bulls are back after the goriest month since 2011.
Implied volatility for put options on the S&P 500 Index is sinking relative to call contracts, sending the CBOE SKEW Index -- which purports to measure expectations of a tail event -- to its lowest in more than two years.
In other words, speculators are effectively crowding out hedgers by the most since April 2016 as the potentially make-or-break G-20 gathering gets underway.
Investors are closely watching this weekend's confab in Buenos Aires to see if Presidents Donald Trump and Xi Jinping can ease a costly commerce dispute -- and potentially spur a relief rally in the S&P 500.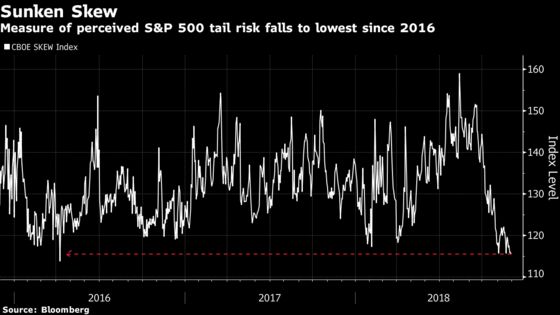 A put option is a contract giving the owner the right to sell a certain amount of an underlying security at a set price within a specified time frame. A call contract gives them the right to buy. A 'black-swan' event refers to returns two or more standard deviations below the mean.
Still, in the complex world of options trading, nothing is black and white.
Strategists can disagree on what the falling SKEW is flashing. Either investors are buying bullish calls in anticipation of a huge rally, or complacently shunning protective hedges. Or, maybe none of the above.
"The exact reason for the flattening for skew is not obvious," Vinay Viswanathan and Dean Curnutt of Macro Risk Advisors wrote in a note Thursday. "Call demand has likely increased."
To the strategists at the U.S. broker, that's consistent with their view that U.S.-China trade concerns are fostering "a higher chance for a larger-than-normal move to the upside." 
To others, lower demand for put options that protect against declines is a sign of complacency on the heels of double-digit drawdowns in the S&P 500 and Nasdaq 100 indexes.
Investors may have simply cashed in those protective puts during the recent equity rout, according to MRA. JPMorgan Chase & Co. is another proponent of the view stock options aren't flashing investor complacency.
The SKEW's predictive powers are far from perfect, suggesting investors shouldn't overthink bullish and bearish signals from the gauge. All the same, as global markets brace for U.S.-Sino trade talks, companion metrics like the S&P 500 put/call open interest ratio and the Credit Suisse Fear Barometer also suggest bears are going back into hibernation while bulls return.