Bitcoin's Not a Great Hedge Against U.S. Stock Losses Either
(Bloomberg) -- One of the most common investment arguments for Bitcoin -- that it's a superior store of value to traditional hedges such as gold -- doesn't actually hold up that well, according to an analysis from John Normand, head of cross-asset strategy with JPMorgan Chase & Co.
During the 10 worst monthly performances for the S&P 500 since the earliest available Bitcoin pricing on the Bloomberg terminal in July 2010, the largest digital currency posted a positive return in only three of them, according to data compiled by Bloomberg and JPMorgan.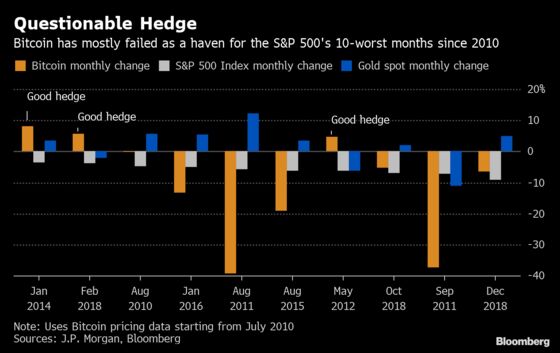 Meanwhile, Bitcoin also posted losses at least two times worse than the index on four other occasions. By contrast, gold was positive seven times in the same periods, the data show.
"Bitcoin's correlation over the past year with all other markets has been near zero, which would seem to position it better than the yen or gold for hedging purposes," Normand said in a Jan. 24 report. "Low correlations have little value if the hedge asset itself is in a bear market, however."