Biotech IPOs Are Booming, But Some Fear the Bash Is Almost Over
(Bloomberg) -- Biotechnology companies have been going public at a blistering pace this year, even as private investors are pouring more and more money into younger and younger startups.
Through Friday, there were 38 new U.S. stock listings by biotech companies this year, raising almost $3.9 billion, the highest dollar amount since a wave of market debuts by upstart drugmakers in 2000 was stirred by excitement over an early generation of genetic therapies.
This time around, amid the recent approvals of the world's first gene therapy and Alnylam Pharmaceuticals Inc.'s RNA-interference drug, investor enthusiasm isn't confined to any one area. Companies that sold stock for the first time in 2018 include Translate Bio Inc., which is using messenger RNA to develop drugs for rare diseases such as cystic fibrosis, and Neon Therapeutics Inc., which describes itself as a platform for developing cancer immunotherapy treatments.
In the coming weeks, companies including Gritstone Oncology Inc., which seeks to develop personalized immunotherapies, and Urovant Sciences Ltd., a Vivek Ramaswamy-backed urology company, are planning to go public.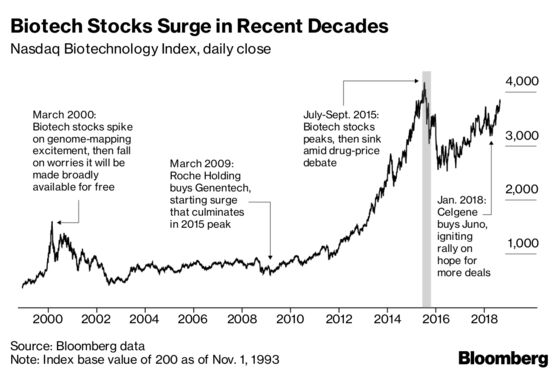 Even as those firms race to the stock market, other companies that might have rushed to cash in on the IPO frenzy are choosing to hold off. One reason is that thanks to low interest rates and a hunt for higher returns by institutional investors, biotech startups have access to more capital than ever. Founders of several startups told Bloomberg News in recent weeks that they are raising more money earlier than expected.
While the funding frenzy has left companies that need capital for ambitious research flush, some observers are uneasy. Many of the newly public firms have no approved drugs and no near-term prospect for making any money. Several companies that sold shares recently — including Translate Bio and Neon Therapeutics — are trading below their IPO price.
The prospects for getting out of private biotech investments are also increasingly unclear. Large drugmakers that typically acquire young companies to replenish their own pipelines have been complaining more loudly about lofty valuations. Merck & Co. Chief Executive Ken Frazier said on a conference call in July that small biotechs have access to ample capital and "the deals that are getting done are being done at very high prices and premiums."
For investors able to crowd into a promising startup before it hits the stock market, the payoff can be substantial. In 2014, amid another biotech funding frenzy, Juno Therapeutics Inc. raised $176 million in its first big private financing round. Months later, the company debuted on the Nasdaq Stock Market at a $1.9 billion valuation. On the first day of trading, the shares leapt 46 percent, giving Juno a valuation of roughly $2.7 billion.
Then, this past January, the company was snatched up by Celgene Corp. for $9 billion. Celgene has said it hopes to get approval for Juno's promising cancer immunotherapy by 2019.
The lure of that sort of fast return has drawn investors who typically invest in early-stage public companies or firms that are on the verge of going public, known as crossover investors, into earlier financing rounds, which in turn have become larger. According to a report by MassBio, an industry trade group in Massachusetts, the average private financing round for startups in the state jumped to $51 million this year, up from $34 million in 2017.
Crossover investors "are really helping to pour gas on the fire for the IPOs," said Jon Norris, managing director at Silicon Valley Bank. "Returns have been so good, and they've been really quick."
Biotech isn't the only industry seeing a surge of new stock offerings. More than 180 initial public offerings raising $47.4 billion have been announced this year, data compiled by Bloomberg show. This compares with 140 offerings raising $33.4 billion during the same time a year ago.
As in the technology sector, where dozens of private companies boast valuations north of $1 billion, the influx of investor cash is beginning to put very rich price tags on a number of unproven enterprises. According to venture capital tracker PitchBook, there are at least seven so-called unicorns in biotechnology — private companies valued at $1 billion or more.
One of the biggest beneficiaries has been Moderna Therapeutics Inc., which has raised $2.6 billion. The company has said that it has a valuation of about $7 billion — more than Agios Pharmaceuticals Inc., which has developed two FDA-approved drugs since its founding in 2008 and is now worth about $4.4 billion. Moderna, established in 2010, has one program in the second phase of clinical development, nine in the first phase, and 11 in earlier research stages.
A spokesman for Moderna declined to comment.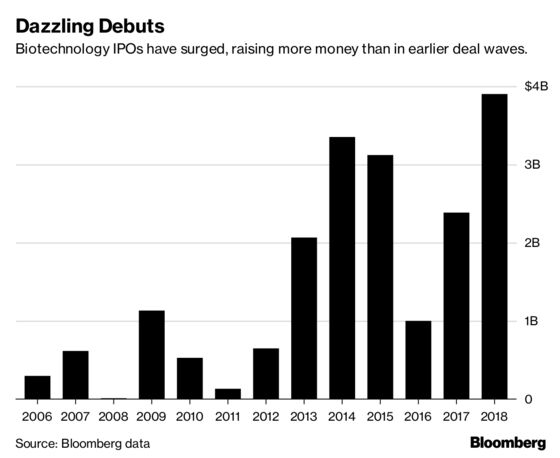 Many companies say that the ready supply of investment capital is allowing them to focus on research. For example, Kaleido Biosciences Inc. recently raised $101 million, funds that should last it until 2020, according to Executive Chairman Michael Bonney. Kaleido wouldn't comment about its future plans.
Bonney, who led Cubist Pharmaceuticals Inc. during its $9.5 billion sale to Merck in 2015, said excitement in the general public as well as vehicles such as exchange-traded funds that give retail investors more access may also be driving the bull market.
"The general understanding of human biology and what's driving various diseases is improving, and that creates a broader audience to go to and try to find the funding that we need," Bonney said in an interview at Kaleido's Bedford, Massachusetts, headquarters.
Companies choosing to go public are betting that investors understand that scientific breakthroughs often happen slowly, and that they are willing to wait for a potential payoff — even if that means that sales and stock gains are harder to come by at first.
"Raising capital privately is always more difficult than it is publicly," said Ronald Renaud, CEO of Translate Bio, which raised $126 million in its June IPO. "We want to make sure we have the balance sheet that allows us to go after as many great ideas, stay at the forefront of delivery, and not have to worry about being capital-constrained while we're doing that."
For all the money pouring into the industry now, past booms have tended to end abruptly. The Nasdaq Biotechnology Index, the most closely watched measure of the sector's stock market performance, slipped into correction — a decline of more than 10 percent from the index's peak — following run-ups in 2000 and 2014.
So far this year, the index has risen 10 percent, but it remains roughly 11 percent below the level it reached at the tail end of the last upturn in July 2015. Some people who watch the market closely are starting to wonder when it will run out of steam.
"We've already had a really good 12-month period. They don't tend to be much longer than that," said Hartaj Singh, analyst at Oppenheimer & Co.