Health Insurers, Cannabis, Energy Stocks Gain on Election
(Bloomberg) -- Stocks gained across the board after the U.S. midterm elections played out as expected, with the Democrats taking the House and Republicans holding the Senate. A divided government and potential gridlock is seen as positive for many industries. The yield on ten-year Treasuries fell as a split government may reduce the odds of new tax cuts and other fiscal stimulus.
There are numerous sector-specific issues as well. Cannabis companies are being buoyed by legalization in Michigan, while energy investors applauded the defeat of a Colorado measure to curb drilling. Banks were mixed as regulations are likely to keep easing, though House Democrats may take a tougher look at the financial sector. Tech stocks rallied as investors piled back into traditional growth sectors like internet and software.
"There's no surprise here," with the market offering "a shoulder shrug" to political concerns, Credit Suisse strategist Jonathan Golub said in a phone interview. "Net rancor" is already factored into the market, he says, and he sees President Donald Trump as bolstered by low unemployment and strong job creation.
"A split Congress has historically been bullish for equities and we expect to see the same pattern again," Deutsche Bank Chief International Economist Torsten Slok says in a note.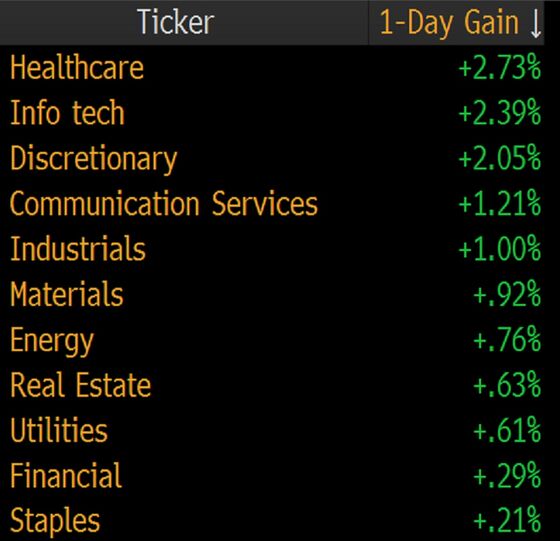 Health care led gains in the S&P 500, thanks to a rally in managed care stocks, as the midterm election removes the risk of an Obamacare repeal or big legislative change to the U.S. health system. The S&P 500 Managed Care Index rose as much as 4.5 percent to a new record high. Some states also voted to expand Medicaid coverage, a boon for companies like Centene Corp. and Molina Healthcare Inc. that are focused on the program.
Hospital stocks also rallied along with payers, with a Bloomberg Intelligence gauge of the sector rising as much as 5 percent, the most since July.
RBC analyst Brian Abrahams sees upside potential for biotechnology companies on easing political concerns and the "removal of an overhang." The ETF that tracks the Nasdaq Biotechnology Index, the broadest gauge of the industry's performance, rose as much as 2.4 percent, while a more balanced biotech exchange-traded fund climbed 2.9 percent.
Large-cap biotechs that have stumbled over the last month as a risk-off trade deflated the group rebounded on improved sentiment. Shares of AbbVie Inc., Vertex Pharmaceuticals Inc., and Alexion Pharmaceuticals Inc. were among notable outperformers.
The biggest banks were mixed, with Bank of America Corp., JPMorgan Chase & Co., and Citigroup Inc. gaining while regional banks sold off. Wells Fargo & Co. -- which many thought would be under pressure if Representative Maxine Waters were to take control of the House Financial Services Committee -- dropped about 1 percent. Gridlock is positive for financial stocks, KBW's Brian Gardner wrote in a note, as Democrats won't "be able to block or reverse the Trump administration's regulatory agenda."
"We should expect a torrent of bank headline risk, but it is difficult to see the rhetoric turning to reality given the GOP majority in the Senate and the presidential veto threat," Compass Point's Isaac Boltansky told Bloomberg via email.
Chair Waters' initial oversight focus is expected to be on the financial regulators, Wells Fargo, and Deutsche Bank AG; the question now is whether that headline pressure will extend Wells Fargo's time under the Federal Reserve's asset growth cap, Boltansky said.
Amazon.com Inc., which has faced scrutiny from President Trump, gained as much as 5.6 percent. Companies with China exposure, including Apple Inc. (which gets about 20 percent of its revenue from China), and chipmaker Advanced Micro Devices Inc. also rose, as investors mulled whether there may be progress on trade issues.
"Trump might work with the Democrats if he feels he can get something done," Brian Battle, director of trading at Performance Trust Capital Partners says. "He has a history of going around his party." Battle doubts new regulation that could constrain the industry has a chance of passing.
Voters in California rejecting a referendum that sought to strip funding for infrastructure from Senate Bill 1 has "a positive read-across" for Granite Construction Inc. and Vulcan Materials Co., Goldman's Jerry Revich wrote in a note. Granite's stock soared as much as 19 percent and Vulcan shares rallied as much as 8 percent. Caterpillar Inc. gained as much as 3.5 percent.
Airlines, which have been heavily battered amid concerns about rising jet fuel costs, rallied as the election removed some uncertainty, allowing the market to again focus on fundamentals. Despite oil-price fluctuations, airlines are expected to have a good year ahead, with upbeat outlooks from several large carriers. American Airlines Group Inc. gained as much as 6.3 percent and JetBlue Airways Corp. rose as much as 2.6 percent.
Metals and mining stocks gained, as results led to a weaker U.S. dollar and could imply potential optimism on the trade risk sentiment.
Oil and gas investors can breathe a sigh of relief after Colorado's Proposition 112 failed to garner enough support. The initiative would have required new drilling sites, processing plants and gathering lines to be more than 2,500 feet (760 meters) from homes, schools and other "vulnerable" areas. Companies impacted include Anadarko Petroleum Corp., which soared as much as 8.6 percent, and SRC Energy Inc., which jumped as much as 20 percent.
Cannabis stocks gained, led by Tilray Inc. and Cronos Group, after Michigan voted to legalize adult recreational use and Missouri approved a medical marijuana ballot measure. The ETFMG Alternative Harvest exchange-traded fund, under ticker MJ, advanced as much as 3.9 percent.
"It was a good night for cannabis with Missouri and Utah passing medicinal marijuana ballot initiatives, Michigan passing a recreational ballot initiative, and noted cannabis antagonist Rep. Pete Sessions (R-TX) projected to lose his seat," Compass Point's Boltansky says. "The next storyline to watch" will be the expected departure of Attorney Jeff Sessions, "which would be a positive for the cannabis space."
Defense stocks, including Lockheed Martin Corp. and Northrop Grumman Corp., underperformed, as the sector has been under pressure over the past month amid budget growth concerns, and many think a split-party Congress may make for a more difficult resolution of issues relating to the Budget Control Act.
However, Cowen analyst Roman Schweizer said divided government isn't being seen as "overly negative" for defense spending, and could even be positive if a bipartisan spending deal is reached that increases defense and non-defense spending.
For more election coverage, see Bloomberg's ELEC special report.